Bullpen Cubicle Solutions for Modern Office Problems
The bullpen is a traditional office solution that has seen a resurgence in recent years, a reaction against the highly formalized cubical system that took over many offices throughout the 1990s. Today's bullpens work best with less-stratified organizations that are used to dealing with high-octane activity and multiple team projects.
What exactly is the bullpen cubicle system?
The bullpen system is designed to create a much more open office than the typical cubical-based workspace. In fact, it is highly anti-cubical, and actually removes the walls that separated office employees from one another. Bullpens are large spaces in which employees can easily see each other and visit coworkers' desks to share information and ideas. The traditional bullpen is exemplified by the classic newsroom, with many desks lined up classroom-style or in blocks. Modern bullpens often create a free space in the center of the office, and arrange the desks along the sides of the room.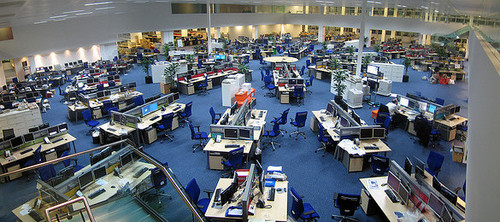 Advantages
The bullpen seeks to remove some of the problems associated with cubicles. In a bullpen, employees don't listen in on conversations or peek over cubical walls to engage other workers, because barriers no longer exist. This saves time and makes it easier for employees to ask each other questions, share timely information, and offer opinions on projects. Ideas flow more freely in a bullpen, and employees are more willing to act on them.
Bullpen stations
While bullpen arrangements avoid the walls associated with enclosed cubicles, they still use workstations. Often these stations are simply freestanding, backless desks where employees can store their computers and documents. In more active offices, narrow, standing-room-only cubicles can be used. Some bullpen cubicles do include some dividers, rather than full separation, to help differentiate desk space or offer a little privacy while still encouraging open communication.
Is a bullpen right for any office?
Bullpens are most suited to active offices where teams work together on the same project. If every employee has a separate project that does not require input from others, there is less reason for a bullpen arrangement. A bullpen cubical is less suitable for managers, who tend to benefit from the quiet, private, interview-friendly features of a fully enclosed space. When it comes to jobs that demand focus or a large amount of materials and files, more privacy is often better.
Bullpens have been used by city governments, call centers, and NASA with notable success. It is a layout that works best in frenetic, energetic fields where fast action is often important and sharing ideas may be necessary for success.
Ready to Compare Office Cubicles and Systems Price Quotes?