How the HON Company Took a Green Approach to Cubicle Systems
When it comes to leaving a carbon footprint, many corporations are getting on board with a green approach to their office furniture. Sustainable building and office design have become a necessity. Many cubicle-system suppliers have joined the cause.
The U.S. Green Building Council set standards for green buildings, designated as LEED-certified, but that puts a burden on designers, architects, and contractors throughout the construction process. How can you make a green building from top to bottom, with all the spaces in between? Here's how the HON company got it done at a Florida resort, and what solutions are available from other top cubicle vendors.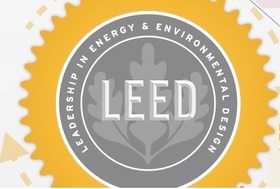 Designing for your future
In order to meet LEED standards, in the design of Sandpearl Resort in Clearwater, Florida, the focus was to find green materials that were both versatile and reliable. Versatility in design is imperative in any office setting, when the goal is to accommodate an office staff. When designing with sustainability in mind, reliability is key.
The long-lasting effects of your office furniture are just as important as the comfort and reliability it can provide today.
Encouraging teamwork and improving communication
The Sandpearl project required low-emitting materials to match their commitment to 'go green', throughout the building. With a focus on storage space, and an open layout, employees would be provided the ability to communicate with one another. These requirements were met and realized with flexible panels spaced according to their needs.
At the end of the project, Sandpearl was pleased with their highly collaborative office, meeting their requirements for environmental stewardship.
The impact of a green office
This fine example of implementing a sustainable space, resulted in a beautiful, modern, and functional, green building. This type of space is always a welcome feature in the community. A sustainable office speaks to your commitment, as a business, to modern business trends. Green offices and buildings, like Sandpearl, feature low-emitting panels made of wood to floor coating, paint that minimize the impact on the environment.
Your options in modern cubicle systems
The HON Company set the standard with their Sandpearl project, leaving other vendors eager to replicate its success. When designing your own green office space, be mindful of versatility, functionality, and your environmental responsibility. When choosing from the many modern cubicle systems available, keep in mind all options available. From advanced cubicle, partition, and panel systems, there are many ways to make your office space sustainable and green.
Ready to Compare Office Cubicles and Systems Price Quotes?