Achieve Maximum Benefits with Healthcare Office Furniture
Whether it's a small medical clinic or an expansive hospital, the placement of healthcare office furniture has the potential to improve staff efficiency and job satisfaction. Utilize the best practices of implementing new office cubicles and systems in healthcare facilities to achieve these benefits.
Confidentiality in healthcare facilities
Healthcare institutions must abide by the confidentiality guidelines of the 1996 Health Insurance Portability and Accessibility Act (HIPAA). The act "requires all individually identifiable health information in the United States to be kept confidential," explains a white paper published by the International Interior Design Association.
Healthcare facilities must keep protected health information, such as patient medical records, secure and private. Installing office cubicles for healthcare facility staff form doctors and nurses to management positions, is an effective way to achieve the required confidentiality levels. Best practices are to set up cubicles and systems within the facility that achieve confidentiality, whether it be for paper, electronic, or oral communications.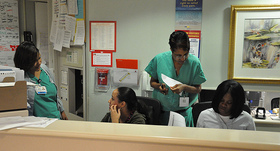 Best practices for the furniture
One challenge is installing healthcare office furniture that meets security and privacy measures while achieving the openness patients and visitors desire in these institutions. It requires space and design planning for effective systems and cubicles.
To meet the challenge, many U.S. hospitals install a nurses' station with a counter high enough to keep the computer screen from being viewed by visitors. Some stations even have glass across the front for additional privacy; the nurse remains visible to visitors and patients, yet is less likely to be overheard by unauthorized people.
Daily activities for doctors include filling out paperwork, meeting patients to discuss test results, and phone calls to other professionals. When you install office cubicles for them, they get more privacy than an open-plan office allows; it is more difficult to be overheard discussing patient information or have paperwork read.
Additional benefits of office cubicles
When you install cubicles, you provide doctors and other staff with their own personal spaces. They can set up the desks according to personal preferences and provide this space as a retreat from daily stresses. In addition, cubicles provide space for them to study changing laws, practices, and patient information. Job satisfaction is likely to increase as they have a distraction-free place to focus within the cubicles' dividing walls. Staff become more attentive to patient needs and efficiency increases, as does your bottom line.
Once office cubicles and systems are in place, they need regular cleaning and maintenance for sanitary reasons. Regularly asking facility staff about their perceptions of the cubicles and setup is a terrific way to assess the furniture's effectiveness within the building. Modify the layout and swap out pieces that do not meet staff needs, and ensure the systems meet with legal requirements for medical confidentiality.
Ready to Compare Office Cubicles and Systems Price Quotes?