The Right Call Center Cubicle Can Increase Efficiency
Call centers are used for inbound and outbound marketing, collections, and customer service, and in these transactions clear communication is vital. While office cubicles can be designed in a variety of ways to meet different needs, it is very important that each of these employees have a private call center cubicle.
Cubicle styles
Rows of tables with computers facing front-to-back are not cubicles. They provide neither privacy nor a noise barrier that lets callers be heard amid the noise. Long lines of desks, with a short barrier dividing each work station, are better, but still do not offer much in the way of noise reduction. Corner styles and modular designs with higher walls will provide you with the best options for setting up a solid work area.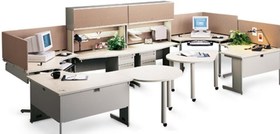 Corner styles can be arranged in sets of four to give each operator a degree of privacy. Modular designs can easily be rearranged according to changing needs, though every cubicle will need to allow enough space for the computer and telephone equipment required for effective call service. A call center cubicle can be purchased in new or used condition. If your budget is low, start with used equipment that meets all of your basic requirements.
Cubicle options
A system with high walls has more benefits than just a sound barrier. Fabric-covered walls can act as memo boards for posting notes that otherwise would clutter desk tops; high Plexiglass walls let in light and give the space an open feeling while still offering a solid sound barrier.
Do choose desktops with a solid laminate; these are designed to stand up to daily use. If your office runs shifts, consider adding locking drawers or a filing cabinet for each station so employees can keep their personal belongings and work-related materials out of the way of other workers. If your company is involved in telemarketing, you must also comply with Federal Trade Commission regulations for document-keeping. Locking storage areas will help keep these files secure.
Privacy for customer service
When your business runs a call center for customer service, you should provide your phone operators with privacy for discussing account questions or problems. While you may carefully screen your employees and control computer security, you also need to be careful in any area where account and credit card numbers are discussed. Social Security numbers are also confidential and must be protected. In addition to providing privacy, sound barriers allow each operator to concentrate on calls without distractions from nearby operators.
Privacy for telemarketing
When your operators are making outbound calls, you really do not want prospective clients to hear a boiler room in the background. No matter how polished your business presentation is, hearing multiple conversations is an immediate customer turn-off. A lack of noise in the background elevates a client's confidence in your company.
Ready to Compare Office Cubicles and Systems Price Quotes?