Choosing the Right Office Furniture Finishes
If you have heard about Greenguard and LEED certification but want to know more, read on to see how these standards can affect your business, particularly your furniture-buying choices. If your office is up for a remodel or needs new furniture, why not make it as environmentally safe and healthy as possible?
LEED certification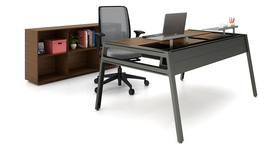 LEED, or Leadership in Energy & Environmental Design, is a U.S. rating system designed to assess a wide variety of products and materials based on their efficiency, toxicity, and emissions. Various factories, houses, and commercial interiors can have LEED certification, which is based on a system of points. Changing materials or processes to more green-friendly alternatives provides you with a certain number of points. Eventually the points add up to basic, silver, gold, and platinum levels of LEED certification, depending on how environmentally friendly the building is.
Besides looking at layout and color for your office space's design, you also want to consider office furniture finishes. This includes the fabric on the chairs or couches, as well as the material in desks and cabinets. Besides finding a finish that's aesthetically pleasing, you also have to consider whether it's functional and fits with your company's overall style.
Seating areas
The lobby seating area of your office provides a first impression of your company to prospective partners and clients, so it's important to make it both comfortable and professional-looking.
Different materials lend different looks:
Leather: Looks sophisticated but can be expensive to buy and maintain. Also, it might start to show wear earlier than you'd like.


Vinyl: Not as stylish, but it is far easier to maintain. Leather-look vinyl, on the other hand, combines the best of both worlds and may prove the best choice if it's in your budget. Regardless of the material you choose, you will want to include a stain protectant.
For all chairs, be they in the lobby or for your workers, you want an ergonomic design that provides support and comfort. Club chairs, which are upholstered armchairs, often take up extra space but provide softness and style.
Changing your business interior to win a LEED certification has a number of benefits, both tangible and intangible. First, depending on state and federal legislation, you may be able to net tax breaks by making the change. LEED certification also helps companies operate more efficiently and develop a safer, healthier work environment. This can positively affect employee morale, company reputation, and insurance costs.
You'll also want to think about any exposed frame, such as armrests or chair legs. You can choose between wood, metal, and synthetic options, and this choice depends on whether you want a modern or traditional look. Mesh has become a popular choice for desk chairs, as well. They are easy to maintain and comfortable, while being sturdy enough for regular use.
Desks and hard surfaces
Many types of furniture and office products meet the low-emission requirements, but your best bet is natural wood and authentic veneers that do not use plastic, heavy lacquers, or lots of adhesives. Fabrics, likewise, should be natural and avoid any heavy, chemically dependent dyes. Companies may also offer refurbishing services that allow you to keep certain large products but replace their current materials with low-emission versions.
Wood was traditionally the material of choice for desks and tables, but other options are taking its place. You can buy desks made of metal, glass, and even plastic. Besides offering a contemporary look, they are often easier to care for and lighter-weight for moving around in a multi-purpose space. These same options are also used in conference tables, storage cabinets, and even coffee and end tables in the reception area. Many of these materials are easy to paint to give them a colorful and modern vibe.
The office furniture finishes should be part of the overall design that melds the company's brand with its office space. Instead of looking at each aspect of the design individually, it helps to focus on the final goal and what you want the space to say. The other decisions become much easier if there are parameters for the design.
You don't have to be limited by traditional finishes, but can find many new and innovative materials to make your work area a fun and exciting place to be.
Ready to Compare Office Cubicles and Systems Price Quotes?