What Can Recycled Furniture Do for Your Office?
The right decor enhances the way an office functions and sets a tone for customers and employees. In addition, the furniture you pick can do more than simply provide a place to put people and office supplies. Your business can join the growing number of offices that are choosing recycled furniture to make an ethical statement while providing a setting that enhances work flow.
The advantages of going green
Reputation: Customers like to do business with earth-friendly companies. If you opt for recycled office furniture, there is nothing wrong with pointing it out in subtle ways, such as small signs or window stickers announcing your eco-friendly work-space. Some of your customers won't notice, but those who make it a practice to seek out eco-friendly companies will.
Eco-friendly: Furniture made from recycled material is better for the environment than furniture manufactured from all new sources. If you have a hard time finding furniture you like that is made completely from recycled materials, consider items crafted from a mixture of recycled and sustainable materials.
Sustainability: In addition to "recycled," there's another term to watch for in eco-friendly furniture: "sustainable." While recycling is part of sustainability, sustainability also includes ways of sourcing original materials in a manner that does not negatively impact the earth's resources.
Cost: Furniture manufactured from recycled material can save your business money. So, while benefitting the planet by keeping waste out of landfills, it's also a bit gentler on your company's bottom line.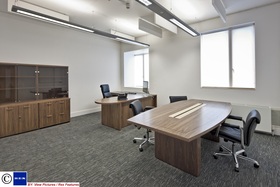 Pricing benefits
Re-using, re-purposing, and recycling is not only good for the environment, it's good for business. We all want to save money where we can, and recycled furniture is a great place to start.
There are no special tax benefits for purchasing recycled furniture, however, the cost of any furniture purchased for the purpose of conducting business, can be deducted. Paying less for recycled furniture will yield a substantial savings, as much as 30-50%.
The misconception of used furniture is that it is no longer useful. The reality is, office furniture is often discarded based on appearance or easy to fix repairs. Recycled furniture often, requires a little TLC to get it back into working shape.
Other things to consider
Keep in mind the following details when purchasing office furniture:
Comfort: When you think about how much time workers spend in the office, you begin to realize how vital comfort is to productivity. So before you buy, give desks, chairs, and couches the sit test. Are they comfortable and styled in a manner that feels right for both the human body and your office?
Durability: Office furniture is an investment, so check to make sure it's sturdy and built to last. If it feels a touch wobbly, it will probably last for a while, but it's unlikely to hold up on a long-term basis. Even worse, one of your workers could get hurt.
Ergonomics: Not all furniture is designed with the user in mind. If your furniture forces you, or your employees, into unnatural positions, it can end up reducing work flow and can even cause injuries such as carpal tunnel or back stress.
Recycled furniture won't completely remodel the way your office runs, but it can make a positive impact by impressing your customers and lessening your business's overall use of the world's raw resources.
Ready to Compare Office Cubicles and Systems Price Quotes?