Office Furniture Warranty Information and Details
When purchasing new office equipment or cubicle arrangements, pay special attention to your warranty information. Office furniture is a major expense for your company, and you need it to work perfectly. An office furniture warranty can be especially useful in solving unexpected flaws or problems that only become evident as the office equipment is used. However, warranties are filled with important details, so you should also research what to expect and how to interpret warranties before making a move for a replacement.
Warranties and defects
Many office furniture and cubicle companies include a warranty against defects. Essentially, this helps you avoid manufacturing and shipping errors. If you receive furniture pieces that are obviously damaged, flawed, or incorrect, you can have them replaced at no expense. The manufacturer will typically handle all the transportation costs as well.
If you receive any pieces that do not fit correctly or have obviously been damaged, immediately call your supplier and arrange for a replacement. If shipping damages have occurred, call your carrier first to check its warranties. Carrier warranties will typically apply to shipping damage instead of your product warranty.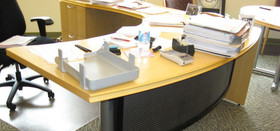 Warranty times and applications
How long can a warranty last for office equipment? This depends on the company you work with, but expect a warranty that lasts at least several years. Most companies offer 10-year or five-year warranties on their products. Look at your office furniture warranty for more information.
If a product is damaged during this time, you may be able to have the product replaced. Repairs are typically not included, since office furniture is difficult to "repair" as opposed to simply sending in new versions. Please note: warranties for used or refurbished office equipment are typically much shorter, lasting for only a month or so.
Watch the qualifications
Cubicle warranties tend to come with plenty of caveats that can prevent you from using the warranty. Know these qualifications before you start the replacement process. For example, warranties will not apply to damage resulting from typical use or from any in-office accidents that occur when moving cubicles. In other words, if you damage the furniture yourself in any way, the warranty will not cover it. If the furniture is used improperly, the warranty will also be voided. This includes not only the intended purpose, but also installation. You need to use all the right compatible parts and components in order to qualify.
In some cases, warranties will also prove limited for specific components, such as "high contact" areas. Components that are likely to be kicked, ripped, stained, and snapped off have shorter warranties, usually lasting only a year. So, if the damaged section is a kick plate, fabric, or work surface, read your warranty carefully.
Buying the right furniture for the right price is essential for any workplace, but you don't want to get tripped up on the fine print. Make sure you understand the terms before you decide to buy.
Ready to Compare Office Cubicles and Systems Price Quotes?