The Basics of Vehicle Mounted Air Compressors
Many of today's businesses are "in the field," moving from one location to another for contracts, client meetings, or even demonstrations. Vehicle mounted air compressors help support this need for mobility by providing easily portable compressed air power for service trucks, public works, utilities, and an endless variety of heavy construction applications.
Here's an introduction to what you need to know to purchase one for your business.
Types of vehicle mounted air compressors
Some portable compressors are mobile simply by virtue of packaging:
Self-contained - The first variety is towed from one place to another by trailer or mounted on the back of a truck. This all-in-one unit can be dismounted from the vehicle and left wherever you need to do your work. Average output is around 9 to 13 hp and 100 to 200 PSI, with popular models that cost between $1,700 and $2,800.
Built-in - Others, also known as "underhood air compressors," are built into and operated by the vehicle, drawing power from the engine to build up air pressure. These models provide up to 175 PSI and often come in either a 70 or 150 CFM system. Expect to pay anywhere from $200 to $600 for the equipment itself, with installation costing extra and billed hourly.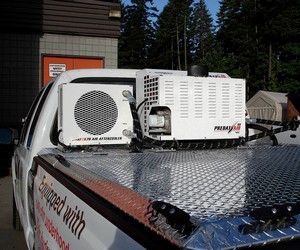 The type of compressor you need will depend on the power supply and application of the machine. For example, many construction crews use air compressors that are powered by their vehicles because they don't always have access to an electrical supply. The type you choose will depend on the amount of pressure per square inch (PSI) you require, as well as your space limitations.
Important features
All vehicle mounted air compressors are not created equal. And it's important that you choose the machine that provides you with the most features for the job at hand. Different PSI and CFM capabilities, for example, will determine how long you can use the compressor and how much power you are able to generate. Furthermore, you'll want the necessary safety features to ensure that the operating crew is secure.
Many vehicle mounted air compressors come with pre-set RPM controls that allow you to determine in advance how much power is generated through the vehicle. Other important features include:
Idle-up speed controllers
Throttle control
Air-on-demand capabilities
100% duty cycle
Drive disable circuit
Clear display readings
Rotary screw compressors are the most convenient option for businesses that require constant output over a long period of time, as opposed to reciprocating compressors that require regular rest periods.
Buying tip: don't forget to ask about optimum PSI versus maximum PSI, which will make a difference. If a compressor is capable of running at 175 PSI, for example, but is intended for work at 150 PSI, the machine won't last as long when run at that higher number.
Find a qualified air compressor dealer using BuyerZone's quote request service. We'll connect you with providers in your area, and you can choose the dealer with the best vehicle-mounted compressor for your needs.
Ready to Compare Air Compressors Price Quotes?