Air Compressor Prices from Recent BuyerZone Buyers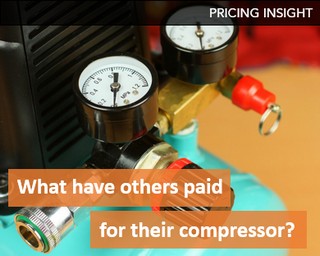 At BuyerZone we know comparing a wide sampling of prices and features can be the best way to research a future business purchase. To help our users out, we surveyed recent customers to find out what they paid.
Through this process we learned some very interesting things. For instance, rotary screw compressors are considerably more expensive than reciprocating compressors, as these quotes demonstrate. However, in situations where continuous air pressure is needed, rotary compressors are far more suitable.
You can find used compressors at fairly decent prices; if you develop a good relationship with the dealer to cover any necessary repairs, this can be a reasonable way to save some money. However, if your compressor will be used to run essential business processes, it's probably worth paying slightly more to get the warranty and service contracts they typically include.
New rotary compressor prices
"$5,995 - Chicago Pneumatic CPN 15 HPD, 15 HP rotary screw mounted on a 120 gallon horizontal air tank with mounted air dryer."

- Tool and die service, Wyoming, Michigan

"$3,000 - Included start up kit, simple air aluminum lines for shop, external air pressure regulator & moisture filter, anti-vibration kit to install on cement floor & 50' steel hose reel with 1/2" thick parker hose."

- Real estate manager, Herndon, Virginia

"Turnkey system with screw type compressor, air drier, electronic draining system, and start up kit. Delivered price: $6,450."

- Manufacturer, Strongsville, Ohio

"Kaeser ASD25 single stage, oil injected rotary screw compressor, TC-31 air dryer, KOR-170 oil filter, KCF20 condensate filter, 120 gal. tank, materials, and labor to connect to our present air piping system. $13,832."

- Manufacturer, Versailles, Pennsylvania

"$8,146 including 10 hp rotary screw compressor, 80 gallon tank, tank drain, condensate separator, startup."

- Manufacturer, Dudley, Massachusetts
New reciprocating compressor prices
"$2,165. Magnetic starter, air-cooled aftercooler, automatic tank drain, oil monitor, 5 year warranty."

- Farm, Wakeman, Ohio

"$2,500 for 5 HP compressor."

- Auto body shop, San Francisco, California

"$2,595 compressor. 2-stage reciprocating, 5 hp, mag starter; dryer, filter."

- Manufacturer, Oxford, Mississippi
Used air compressor prices
"We paid $7,700 for a 2002 compressor with 1,100 hours on it." [rotary, diesel]

- Landscaper, Bandera, Texas

"Atlas Copco XAS96JD - $4,995."

- Sandblaster, Paducah, Kentucky

"15 horse Rotary Screw with dryer - $6,045."

- Manufacturer, Riverside, California
Want more information on choosing an Air Compressor? Read our Air Compressors Buyer's Guide.
Information was provided by BuyerZone users. Quotes have been edited for clarity only.
Ready to Compare Air Compressors Price Quotes?