How Much Should you Pay for Storage Container Rentals?
If you need a quick and reliable solution to store your equipment, machine parts, or old documents, storage containers can be a valuable commodity. But while containers are helpful for long-term use, what if you only need to use them for a brief period of time? Rather than charging you the full cost of a new unit, vendors can offer storage container rentals with a low daily or weekly rate.
Storage container rentals are the most affordable option when you need containers for one-time use, such as moving property between locations, or for a few days, like if you needed to store excess inventory during a sale. A vendor can deliver the container to your work-site for as long as you need it, and then pick it up when you're finished. And if you need more time than expected, extending your storage container rental is just a phone call away.
How storage container rentals work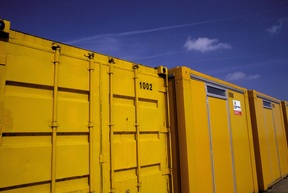 Storage container rentals allow you temporary usage if you aren't ready to buy.
A new storage container can cost $1,500 to $7,000 and even quality used containers run about $1,500 to $5,500. In contrast, it can cost as little as $3 to $10 per day for storage container rentals depending on the size and features of the container. Vendors can also provide price breaks if you agree to keep the container for a certain amount of time. As an added bonus, you may be able to deduct rental costs from your taxes.
However, you don't want to overextend yourself with rentals. If you need a container for one month or longer, you're better off looking at leasing (please see our Storage Containers Buyer's Guide for more information on leasing ). A storage container lease can cost $70 to $250 per month and you can get one for 1 to 2 months or even 1 to 2 years - the longer the term, the lower your payments. Also, your lease payments may be tax deductible, similar to rent payments.
Keep in mind, the total cost you'll pay will largely be determined by the size of the container you're renting. With that in mind, you may find that a larger container may not cost a whole lot more than the size you were considering – leaving you ample room to move about and fit everything in.
Common sizes (L x W x H) and their associated monthly rental costs include:
10' x 8'x 8.5' - $70 to $100
20' x 8'x 8.5' - $100 to $150
30' x 8'x 8.5' - $125 to $185
40' x 8'x 8.5' - $175 to $250
And don't forget: you'll most likely pay for both drop-off and pick-up, with fees for each between $75 and $200. In most cases, these fees would also apply if you need the container repositioned around your location.
Leasing can also provide more flexibility than storage container rentals. You have multiple options for what you can do with the container at the end of the lease - return it to the vendor, purchase it for a nominal fee at the end of term, or purchase it at fair market value. However, leasing does require a contract for the length of time you select and you'll have to pay penalties if you choose to break it early.
Regardless whether you prefer storage container rentals or leases, don't forget about delivery and pickup charges which will add to your overall costs.
Need a storage container rental?
Once you assess your container needs, you can find a rental through online research, or by submitting a request for storage container quotes. Our exclusive network of vendors will walk you through your options, consider your storage needs, and allow you to choose the rental agreement that best suits your needs.
A final word about storage containers for rent: consider how quickly you need them. A typical vendor can have a container at your work site or home within 1 to 3 days but can provide same-day delivery for an additional fee. If you need to store your property right away, make sure to arrange delivery as soon as possible.
Ready to Compare Storage Containers Price Quotes?