4 Advantages of Buying Compact Tractors
Depending on the size and type of your business, you might not require a full-size tractor, but instead may benefit from what compact tractors offer. These machines are usually smaller versions of their full-size counterparts and can vary considerably in attachments and capacities. They are particularly beneficial for companies that use farming equipment sparingly or work on small tracts of land.
Compact tractors are most often recommended for lightweight use for tasks like: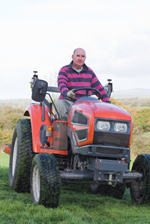 Grading
Tilling
Large-scale mowing
Plowing
Leveling landscape
Maintaining roads
In short, if you're hoping to take the manpower out of property maintenance, a compact tractor may be exactly what you're looking for. If you own acreage or a sizable property, using a compact tractor for the jobs listed above can significantly cut down on maintenance time and manual labor - without the hefty investment in a full-sized tractor.
Here are 4 reasons to turn to compact tractors instead of full-sized equipment:
1. Compact tractors are cheaper.
Many small businesses don't have the cash to spend tens of thousands of dollars on new full-sized tractors, especially when compact utility tractors will suffice - but don't think a small tractor necessarily means a small price tag. A standard compact tractor without attachments or upgrades can range from $10,000-$30,000; price will depend on size, features, and power rating. Additionally, an increasing number of manufacturers are coming out with affordable attachments for these machines, letting you get more uses of the same machine.
2. Compact tractors use less fuel.
Most compact tractors for sale are very fuel efficient and won't eat up your gas like full-size tractors would. They have smaller tanks and therefore cannot run as long as larger tractors, but they work well on small properties when the tank can be refilled easily. In this period of rising gas prices, this is a significant monetary advantage.
3. Compact tractors are easier to maneuver.
Compact tractors have a small wheel base, which allows them to turn tight circles and maneuver in small areas. This is a major advantage over large tractors that are more difficult to turn and position, and you'll find that jobs are accomplished more quickly. It saves you from having to buy two separate machines to do the same job. Furthermore, you won't have to spend hours training your employees to use these smaller machines. There aren't as many controls, so the learning curve decreases considerably.
4. Compact tractors are safer for employees.
You've probably heard about the dangers of working with tractors - they're a big reason why farming is such a dangerous profession. Tractor accidents are responsible for the highest number of farm fatalities. Compact tractors, however, are smaller and less complicated to operate, which results in fewer accidents and less safety training required. This is a major benefit for businesses in our litigious society.
What to know before you buy a compact tractor
Choosing a tractor should not be a fast decision and should be the result of careful research and consideration:
Figure out how much power you need out of your tractor, how many attachments are required to get the job done, and how much time you have to spare for training.
Compare brands based on your maintenance requirements: light-duty versus heavy-duty.
Find a reputable dealer and choose the tractor that best fits your needs and budget.
Ready to Compare Tractors - INACTIVE Price Quotes?