The Basics of Purchasing Diesel Tractors
Diesel tractors are the workhorses of the modern farm. With a wide variety of standardized attachments, the diesel tractor provides more benefits today than it ever has before. Whether you're plowing snow, tilling fields, haying or digging, diesel farm tractors can handle the job.
Diesel tractors are flexible, multipurpose machines with a number of uses, including: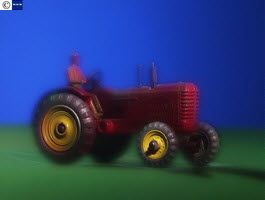 Lawn and garden care
Hay baling
Hauling
Raking
Plowing
Farming crops/orchards
Diesel tractors also can provide sheer muscle for tasks like hauling logs, pulling trailers, and even pulling stumps. For this reason alone, few wheeled machines can match a 4-wheel-drive tractor with deep tread tires.
Here's a quick look at some of the tractor's primary cost-saving advantages, time-saving attachments, and what you can expect to pay for both.
Advantages of diesel tractors
Within these applications, diesel tractors have several advantages that might be important for your application:
All-terrain use. If the terrain where the tractor will be used is hilly, a diesel might be a better choice.


High-speed performance. Diesel engines will maintain their torque through a much broader range of speeds than a gasoline engine. This means no significant loss of power to the drive train or PTO when moving up a hill or facing a particularly difficult task.


Reliable operation. Diesel engines tend to have more longevity and reliability than gasoline engines.


Low-maintenance. With no carburetor, spark plugs, or ignition points to worry about, diesel tractor maintenance is easy and minimal.


Long-term use. Most diesel tractor engines are water cooled, offering consistent power at a lower temperature to extend engine life; a diesel engine can run for thousands of hours before repair and maintenance are needed.
Diesel tractor attachments
If your tractor has a power take off (PTO) and three point hitch, there is a long list of attachments you can get to customize the tractor for your application. Here's a partial list of commonly available attachments:
Backhoes
Bucket loaders
Mowers
Rotary Tillers
Rotary cutters
Manure spreaders
Snow throwers

Aerators
Blades
Disk harrows
Seeders
Sprayers
Balers
Keep in mind that you don't need to purchase every attachment you might want when you first buy a tractor. Start with only the essentials: the attachments you'll use on a regular basis. If you only need a certain attachment once or twice a year, renting the attachment can be a good choice.
The more complicated the attachment, the more you can expect to pay. On the whole, attachments start around $300 to $500 for a log skidder or snow blade, and cost anywhere from $2,000 for a tiller to $5,700 for a rotary broom.
Purchasing a diesel tractor
Diesel tractors are available in a wide variety of sizes and horsepower ratings, and widely available through most dealers. Many will offer a lease-to-buy program as well. This allows you to put the tractor through its paces for an extended trial before deciding to convert the lease into a purchase.
Depending on the type of diesel tractor you buy, prices will vary. For the following varieties, you can expect to pay:
Light-duty lawn and garden tractors - $1,500 to $14,000
Compact tractors - $8,000 to $35,000
Commercial utility tractors - $13,500 to $66,000
Note: pricing will fluctuate based on brand and features.
Ready to Compare Tractors - INACTIVE Price Quotes?