How to Find the Best Used Tractors for Sale
Need a tractor for your business? Whether you're running a farm or doing large-scale landscaping, a dependable tractor is an essential but expensive piece of equipment. Since most brand name tractors are mechanically durable and can run for decades with proper maintenance, buying used is often a cost-effective decision. But finding a reliable, economical source of used tractors for sale can be challenge.
Luckily, there is a fairly large market in used and reconditioned tractors. The trick is identifying a trustworthy seller and the right used tractor for your requirements - you'll need to make sure you get a dependable tractor, not someone else's troubles.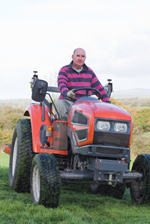 Where can you find used tractors for sale?
There are several sources of used tractors - but they're not all equal. For example, finding used tractors for sale in classified ads, both online and in newspapers, is a common choice - but it carries several risks. One is that the sellers don't have a business reputation to consider, so they may not be too concerned about honest and fair dealings. Another is that you have to trust their claims about maintenance records and repairs. Finally you'll almost always be buying the tractor as-is, with no warranty or guarantee of any kind.
For an investment as substantial as a tractor, it's generally a smarter choice to buy from a reputable heavy equipment dealer. Dealers have more of an incentive to make sure that every sale of a used tractor goes smoothly and results in a satisfied customer. Most dealers also have comprehensive refurbishing programs in place to make sure that every tractor they sell is in excellent shape. Finally, you can expect at least a 30 day warranty on used tractors sold by dealers - and you may be able to get more than that.
Another key advantage of turning to dealers is that you'll be able to compare multiple tractors at once. If you're not sure of the exact model you want, or if you'd like to compare performance, the convenience of having multiple used tractors for sale in one location is significant.
How much should you pay?
Used tractors come in a huge variety of sizes, conditions, and ages, so there's no easy answer to the question of how much you should pay. It's a safe bet, though, that you can save thousands of dollars by buying used. For example:
A small commercial tractor (40 to 99 hp) that might sell for $17,000 new could go for $6,900 to $11,000 after a few years of use.
Larger tractors (100 to 174 hp) that go for $58,000 to $102,000 new are available for $34,000 to $47,000.
And the biggest models (175 hp or greater) that sell for $250,000 to $300,000 new can be found used for $119,000 to $187,000, and as low as $97,000 in some cases.
Of course these prices will vary quite a bit. Reviewing less reliable sources, like want ads, will probably turn up deals that look better on the surface - and some may be. At the same time, if you choose a tractor offered through a reliable dealer, you'll be paying a little extra for the security of a warranty and service department - but it's usually well worth the investment.
Keep in mind that in some cases, older equipment with less wear and tear is actually a better buy than newer tractors that have been used hard for a few years. So be sure to compare the year of manufacturing to the hours logged.
Before closing the sale on a used tractor, make sure you do a thorough inspection and test drive. Try all the attachments that are included, look for new paint that may indicate repair work, and look for any leaks or frayed hoses. The refurbishing process should ensure that everything is working correctly - but as the buyer, it's up to you to make sure.
How can you find a reliable source for used tractors?
We can help. Start by using BuyerZone's free request for tractor price quotes service. You just answer a few simple questions about what your needs are, and we'll match you to multiple tractor dealers in your area. You can compare the used tractors they have for sale and easily find the best deal - no obligation. Try it today!
Ready to Compare Tractors - INACTIVE Price Quotes?