Internet Access Introduction
Internet access is vital to your business. You rely on it daily to communicate with clients and employees, to access the World Wide Web and conduct research. The speed and reliability of your Internet connection dictates how well you can engage in these activities.
Furthermore, your broadband connection gives you access to applications like web hosting, streaming video, voice over IP (VoIP), video conferencing, and virtual private networking (VPN), all of which affect the efficiency of your business.
There are many Internet access services available to your business. Your selection will likely be based on your company size, data requirements, budget, and proximity to the central office of the Internet Service Provider (ISP).
This BuyerZone Internet Access Buyer's Guide explores your available choices, estimates pricing and provides tips for selecting the right provider. When you're ready we can put you in touch with several qualified Internet access vendors for a no-obligation price quote.
T1 Service and Fiber Optics
One of the most highly recommended Internet services for business is T1. T1 is a dedicated circuit that connects you directly to your Internet service provider (ISP). You do not share your T1 connection with any other users, which makes it a fast, reliable and secure option for businesses.
T1 is always on, so there is no waiting for a connection just to check your email. And since T1 lines are dedicated, you will always have access to the full amount of bandwidth (1.544 Mbit/s) you are entitled to. However, the actual performance of your T1 may vary depending on how many users are online simultaneously. A single T1 connection can support dozens to hundreds of users, but speed and efficiency will drop as more people log on.
If you need added speed and performance, your ISP can offer bonded T1 lines. Bonded T1s allow you to use the full bandwidth of multiple T1 lines at once. By combining the speeds of individual T1s into a single pipeline, you allow for more bandwidth than two separate T1 lines.
If your data needs are fairly predictable then another option to consider is burstable T1. With this "pay as you go" service you pay for a specific amount of bandwidth you intend to use, then if you exceed that allotted amount you are able to tap into your ISP's total available bandwidth, though you'll pay a premium above your standard rates--like going over the minutes on your cell phone plan. You might consider this option if you have highly seasonal activity.
Fiber optics
If your Internet access demands are very high--e.g., a doctor's office that regularly accesses and updates electronic medical records--you may need more bandwidth than you can get with T1, even when several T1 lines are bonded together. In such instances fiber optic cable is often your best choice for Internet access.
As with T1, fiber optic cable offers you a direct line to your ISP. Fiber optics, however, provide significantly more bandwidth (up to 1 Gbit/s). The quality of a fiber optic signal also makes it a good choice for connecting several offices in a wide area network (WAN), especially if those offices are spread across long distances. Of course, with its greater speed and reliability fiber optic cable comes with a higher price tag.
Business DSL and Cable Internet Service
If your business is very small and your Internet access demands are low, you might consider one of two inexpensive high speed Internet access options: DSL and cable. A digital subscriber line (DSL) transports high-speed data over the same copper wires used by most phone systems. Meanwhile, cable uses the same wires as cable TV to provide Internet service.
DSL and cable are both distance-sensitive, meaning the closer you are to your ISP's central office – where the lines connect to switching equipment – the faster your connection. It is generally recommended that your office be located within 2-3 miles of the central office for faster, more affordable service.
DSL and cable lines are not dedicated like T1 and fiber optic lines are. Instead, signals from many ISP customers are carried on the same wires. This brings the price down, but also leaves these services vulnerable to slow downs, outages, and cross-talk.
Furthermore, there is the problem of oversubscription – the act of selling more bandwidth than is actually available. Providers will sign up more subscribers than they have bandwidth for with the expectation that not all users will be online at the same time. While you'll get connection rates that are as fast as T1 when few users are online, your connection will lag as more customers connect.
Symmetrical vs. Asymmetrical
Most DSL services are asymmetrical, meaning your download speeds are up to four times faster than your upload speeds. If you mostly use your Internet connection for email and web browsing this shouldn't be a problem. However, if your business relies on frequent uploads, then you will need a symmetrical Internet connection that allows for equivalent upload and download speeds.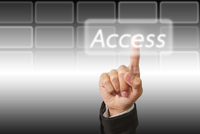 HDSL
A newer offering is HDSL which provides very high speed Internet access. The exact speed you are able to achieve will depend on several factors including your distance from the ISP, the number of copper wire pairs used in your connection, and the age of the copper itself. HDSL is more reliable than standard DSL.
Necessary equipment
Most business DSL customers use a router to connect their local area network (LAN)--all the computers, printers, and other networked devices in the office--to the Internet. A router provides data security and data filtering services, which are valuable in business environments. If you have fewer than 10 computers to connect, you may opt for a less expensive DSL modem, although you will still need to purchase firewall software to secure your network. Your DSL provider will lease or sell you the appropriate hardware.
Multiprotocol label switching (MPLS)
Widely distributed organizations that depend on high-bandwidth communications to connect with one another may consider looking into MPLS for their wide area networks (WANs). MPLS is a technology that improves security by ensuring that data never leaves your carrier's network when traveling between locations.
Satellite
For very remote locations the only viable high speed Internet option may be via satellite dish. Satellite signals, however, can be deterred by bad weather and are not suitable for large applications like web site hosting, video conferencing, or multiple file downloads.
Combined services
Some ISPs may offer a combination of Internet access options. For example, instead of bonding two T1 lines you might be able to save money by having one T1 that handles your voice applications and a DSL connection for standard web browsing. Then if your DSL goes down you'll still have access to the Internet via your T1.
Choosing an Internet Access Provider
Some businesses choose to shop for and purchase their Internet access directly from ISPs. Others prefer to work with a broker who will compare rates and services on your behalf.
Internet access brokers
As a middleman, an Internet access broker will consult several Internet service providers to find the best combination of price and services for your needs. There is no charge to you for this service as the Internet service provider will pay the broker's commission.
Before choosing a broker to work with be sure to ask for references. A reliable broker will provide you with this information and allow their previous work to speak for itself. Contact at least a couple of references and ask questions such as:
Were they readily available to answer any questions you had?
How quickly did they resolve problems?
Did they clearly detail everything written in the contract?
Did they try to sell you additional equipment that you didn't need?
Your broker will continue to work with you after the contract is signed. Once you're connected, the vendor will continue to monitor your setup remotely. They will install any patches and keep system upgrades configured.
They should also provide e-mail contacts and be proactive when it comes to letting you know when there is a network problem and your Internet access is slow or down altogether. If something isn't working right, the broker should work with the provider to get your network up and running.
Choosing an ISP
Once you have chosen your broker, have them furnish you with three to five quotes from various providers. Reliable brokers should have no problem doing that for you. When reviewing recommendations, find out how long the broker has worked with each provider. If they have worked with the provider for a long time, you can be more assured of a reliable setup since the recommendations are driven by firsthand experience.
Find out how long each ISP has been in business before signing any binding contract. The longer they have been in business the more experience they have delivering the quality of services you need. Also, make sure that the ISP you use is financially sound. The last thing you want is to find your broadband Internet access – and ultimately, your business – was compromised because a provider was in fiscal trouble.
Depending on the size and distribution of your company, you may want to choose a similarly-sized provider. For example, if you have a single location, a local provider should be able to handle your Internet access needs. However, if you have multiple locations spread throughout the country, choosing a nationwide carrier will allow you to receive service at all of your locations from the same provider.
You should demand an Internet access provider that provides 24/7 live customer support. You can gauge the level of service you'll get from both your broker and Internet access provider based on how much attention they pay you during the bidding process. If they follow up with you and ask good questions rather than simply throwing quotes out, it is a positive sign that they care about your satisfaction above their bottom line.
Broadband Internet Access Contracts & Agreements
Service level agreements
Reliability is probably the most important factor in choosing an Internet access provider. While it is impossible to maintain 100% availability, most service providers aim for the lofty standard of "four nines" - 99.99% uptime over the course of a year.
Service level agreements (SLAs) protect businesses by making access providers pay penalties to the customer for downtime that exceeds a specified total, and they also may contain a specified level of support options, enforcement or penalty provisions for support and other services not provided.
Until a few years ago, SLAs were not widely offered by Internet access providers. Now, they have become a standard for quality high-speed Internet access like T1 connections. In fact, SLAs are one of the main reasons T1 lines are the most popular choice for Internet access among businesses.
It is difficult to get an SLA on DSL access. The reason is DSL's sensitivity to the distance coupled with the often-low quality wiring, making it difficult to maintain a sufficient level of guaranteed uptime. Some vendors do provide SLAs for DSL, but it's uncommon.
To ensure your provider is abiding by this 99.99% performance level, request monitoring reports that track downtime. Most providers will make this information available to you upon request.
Contracts
It definitely pays to read the fine print before signing a contract for broadband Internet access. The contract you sign should be comprehensive, with no unwanted surprises or hidden fees - detailing all costs, length of service, and the SLA.
The standard contract length for broadband Internet access is three years. In most cases, this will include all setup fees (including the wiring for your phone connection to the phone company's central office, known as "local loop" charges), installation costs, and equipment rental. Shorter-term contracts may require you to pay additional fees. We don't recommend signing contracts longer than three years because prices could fall, leaving you locked into paying a higher price for the duration.
Many contracts stipulate that they will auto-renew at the end of three years. It is a very good idea to shop around before this happens because rapid technology advancement leads to lower rates over time.
Also keep in mind that there are severe penalties for breaking a contract before it expires - often requiring you to pay the entire balance of the contract. To ensure that you are happy with your service, some providers offer a trial period at the beginning of your contract during which you can leave their service without penalty.
Find out how long an ISP has been in business before you sign any binding contract. Companies new to the business may not have the experience to deliver the quality of services you need. Also, make sure that the ISP you use is financially sound. The last thing you want is to find your broadband Internet access - and ultimately, your business - was compromised because a provider was in fiscal trouble.
Getting set up
Once you sign a contract, the vendor will arrange an installation time. A telecommunications contractor will come to your office to set up and test the necessary circuits. Then, the broker will install the routers and connect your LAN. They also configure your IP addresses and firewall security, as well as any other equipment noted on the contract.
Once the broker works out the best deal for you, it takes the service provider 30-45 days from the day the client signed the contract to setup up your office for access. Plan accordingly.
Business ISP Pricing
Costs for broadband Internet access can seem steep compared to residential rates, but business ISPs have to provide much greater reliability and customer support than residential ISPs do.
For examples, see what other BuyerZone users have paid for DSL and T1 internet access.
Prices for business DSL range from $60 to $125 per month; cable Internet can range from $100-$400 per month. In addition to these flat rates, expect to pay a setup fee equal to one month's service charge and additional charges for "bursting"-–using more than your allotted bandwidth.
Standard T1 Internet access prices include the phone company's local loop charge - typically $150 and up - the phone circuit that connects your location to the business ISP's point of presence (POP), and the Internet bandwidth access port. All in all, T1 prices range from $300 to $1,200 - expect to pay that much for initial setup as well.
Pricing varies according to whether you select data, voice, or integrated service, and how many channels you wish to activate. Bonded T1s are typically priced at a multiple of a regular T1 line; 3 bonded T1 lines, for example, would cost $900 to $3,600 monthly.
Fiber optics can range in price anywhere from $600 to $3,000 per month. Since most buildings are wired with standard copper wire, however, there could be a significant "build-out" fee to bring the fiber optic cabling into your office, ranging anywhere from $1,000 to $40,000.
As mentioned earlier, the typical contract length is three years. Most business ISPs will either provide the equipment - routers, T1 pipes, Ethernet cables - for free, or tie them into the monthly pricing. Certain setup fees - including local loop charges and installation - may also be waived based on the length of a contract.
Internet Access Tips
Plan ahead. It is always best to purchase more bandwidth than you need so your company is adequately prepared for increases in employee size and bandwidth requirements.
Hidden agenda? Keep in mind that brokers who sell products like computers and routers in addition to Internet access may steer you to ISPs that don't provide them as part of their service.
Lease, don't buy. If possible, do not purchase equipment for your company's Internet access. Make it part of the deal and let the company own and maintain them so they can fix problems when they arise.
Get support. Your access solution should at least have 24/7 tech support, and preferably have a dedicated team of experts who stand ready to support all of your business needs.
Know your terms of service. Be sure to read and understand any provider's SLA to understand the specified levels of service, uptime and customer support; the range of available support options; enforcement or penalty provisions; and what software or hardware will be provided and for what fee. Also, realize that pricing, promotions, and availability may vary based on your service location.
Ready to Compare Internet Access Price Quotes?