Variable Data Direct Mail Campaigns
Variable data direct mail marketing is a personalized printing process that yields a greater response than traditional direct mail. The key to its success lies in the personalized content designed for each recipient. A personalized piece of mail is more likely to be read by your prospects than a mass produced piece of junk mail.
Cost and utilization
A variable data direct mail campaign leaves no room for guessing. With a well-intended focus, and attention to specifics, your direct mail pieces will reach exactly who you intend to, while giving you more bargain for your buck.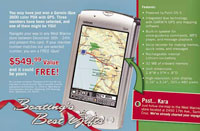 Trekk/Yoffi uses XMPie's PersonalEffect software to create highly customized variable-data print campaigns, including those employing new, dynamic mapping technology. Version 2.5, released earlier this year, is the InDesign Server CS2 version that features fully integrated functionality within the program's uProduce production server.
The expense of individualized mailings can be high, costing as much as $1.50 for one piece. When you add personalized data to your mailing pieces, you speak directly to your customer's needs. Personalization combined with products and services that are priced right, will help you will realize a return on your investment.
Businesses types who benefit include:
Businesses with little or no competition
Businesses in the service and repair industry
A company offering a one-time product or service will benefit from this method
Success in variable data direct mail
Side-by-side testing has shown that response rates for variable-data direct mail campaigns have doubled and, in some cases, even tripled when compared to static mailings. A static, basic mailer has a typical response rate of 2%. A personalized mailer can yield a response rate of 6%.
For example, Charter Bank of New Mexico, printed and mailed personalized postcards to expand its regional presence in the Southwest. The campaign generated $15 million in new investments, with customers arriving at branch locations with postcards in hand, just two days after they were mailed.
Target audience
When you market to the right consumer and deliver a message that speaks to them, you're sure to see results. The cost, however great, is money well-spent in a variable data campaign. Consider the wasted funds when advertising on radio or television, where your target is hit or miss. When you embark on a direct mail campaign with variable data, you're sure to hit your mark.
Ready to Compare Direct Mail Services Price Quotes?