Trade Show Display Introduction
For many businesses, a trade show can offer a simple and convenient way to target relevant buyers. When attending a trade show, the greatest challenge can be rising above the visual roar of neighboring booths. You need to convey your message forcefully and effectively in just the few seconds that someone spends walking by your trade show booth.
Portable trade show displays offer a cost-effective way to make such a statement. Portable exhibits, as their name suggests, can be packed into cases that can be checked onto airlines or transported via standard ground shipping services.
In some cases, this portability allows you to bring in and set up the displays on your own, avoiding the added complexity and expense of professional movers and builders. Of course you'll have to be aware of varying union rules: many halls require that union laborers be used to transport trade show booths and equipment.
With a few simple additions to highlight your company name and products, the right trade show booth can create a lasting first impression.
This BuyerZone Buyer's Guide will help you understand the various types of trade show booths and how much you should expect to spend, as well as provide some tips on how to be a more successful trade show exhibitor. You can also instantly compare the different trade show displays sellers offer to see what your options are.
---
The first step in the process is to figure out which type of trade show display will be most effective for your intended purposes. They come in a number of sizes, each geared toward a specific type of foot-traffic.
---
Different Types of Convention Displays
The basic structure of convention displays determines how easy they are to transport and set up. Both pop-up exhibits and panel displays, two of the most common booth designs, are easy to travel with and assemble.
Pop-up exhibits
Pop-up exhibits consist of accordion-style folding frames that are then covered with magnetic-backed fabric, vinyl, or plastic panels. When expanded and locked in place, they create curved or angled walls that stand on their own and make up the back wall of your booth.
The main strengths of pop-up displays are that they are fairly easy to set up, lightweight, and compact. A 10-foot display can fold into one or two cases, each about the size of a large golf bag, and can weigh as little as 70 pounds altogether. They can support some weight, and so can be used to display small products or sales materials.
The primary downside of pop-ups is that they offer little in the way of size flexibility. Because the frame must be fully opened for stability, you cannot adjust it to fit smaller or larger spaces.
Panel displays
Panel displays consist of fabric-covered rectangular sections that are connected to make a wall. In contrast to pop-ups, a panel display's parts can be arranged in different configurations. This allows companies to use the same convention display for different exhibition spaces. They also tend to be sturdier than pop-ups.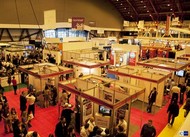 Although they offer more setup flexibility and stability, panel displays are heavier and often require more than one person to assemble.
Other display types run the gamut in terms of portability, price, and ease of assembly:
Pipe and drape displays. These are constructed by draping fabric over a pipework frame. Like frameless displays, pipe and drape are really only useful as backdrops. They aren't really designed to display graphics and cannot support any weight directly.


Tabletop displays. If you don't require a large display, tabletop displays may be a good choice. Usually based on pop-up or panel construction, tabletop displays are much smaller and easier to set up. As their name implies, they simply perch on top of a table. They are handy if you travel quite a bit or need to set up quickly. Briefcase displays are an even smaller version. Keep in mind that the smaller the display, the less it will stand out.


Table covers. A custom-printed table cover can be a good addition to your trade show exhibit, either as a companion to a table-top display, or in conjunction with a larger pop-up or panel display. They are an inexpensive way to get more branding into your exhibit space, and give the added advantage of allowing you to hide supplies and packing materials underneath your table.


Pull-up displays. Essentially a window shade in reverse, pull-up displays are a quick way to enhance your trade show booth. Use several together to create a back wall, or one or two free-standing pull-up displays to accent the front of your booth. They are extremely lightweight and very quick to set up.


Custom exhibits. If trade shows are critical to your business, a custom convention displays might be worth the higher cost. By working with an experienced trade show booth designer, you can create a unique booth that fits your company's strengths. Custom exhibits can include components of any of the other types of displays, as well as freestanding pedestals, stages, workspaces, desks, and more. They're usually somewhat flexible, so they can be used in different configurations or sizes, but most often they're designed to be used in larger booth sizes.
A variety of materials can be used to cover convention displays, including plastic and fabric. If you are choosing coverings, keep in mind that heavier carpet-like fabric tends to withstand wear much better than smooth fabrics.
Booth Designs for Trade Shows
Once you choose the type of display you want, you have to decide on a booth design for the trade shows. A combination of text and images is the most effective way to get attendees' attention at trade shows. And the most flexible way of adding custom text and images is to order Velcro or magnetic-backed signs that you can easily attach to your trade show booth.
Much of your signage will have a long shelf life, as your logos and basic product information are generally consistent for all trade shows. However, by using multiple signs, you can update one or two for show-specific offers or timely information, and not have to reprint your entire graphics package.
An alternate route to attaching signs to the fabric or panels is to make the panels or fabric itself into a graphic. This is typically done by creating large photomurals that are applied to the display. This can create a much more striking visual presentation, but can be harder to update and can add substantially to your total cost.
Consider the size and construction of your signs carefully. While panel displays can support large, flat images, pop-up displays require smaller graphics or flexible signs that can be applied to curved surfaces. These considerations can change your entire trade shows both design.
Graphics for your display are usually purchased from the booth seller, but you can also turn to graphic designers who specialize in producing artwork for trade show displays. Getting professional help with your trade show booth design is probably a good idea.
Most systems can also be equipped with lots of other fancy add-ons. Some trade show booths are designed to include counter space that can hold computers for demonstrations, others have shelves that protrude from or are recessed into the display, and most include at least some basic lighting attachments.
And don't forget to consider what products, promotional items, or literature you want to distribute or display to determine what extras you need. Depending on the type of display you choose, the weight and size of the items you can display will change.
---
A quality trade show display seller can advise you on the best choices to accomplish your business goals, easily assembling a complete display by taking into account a number of key decisions. More importantly, a good seller has a reputation for delivering materials that reflect a high printing standard, ensuring they look as good as possible.
---
Choosing a Trade Show Equipment Seller
A good trade show equipment seller will act like a consultant - look for a dealer who asks questions. They'll consider your goals, your travel and setup requirements, and the type of product you are promoting. From that conversation, they should be able to recommend a specific type of display.
Then they'll work with you on the design - colors, fabrics, and extras, along with any signs and graphics you need. If you need help with this step, be sure to ask the seller if they can provide graphic design services. Not all do - but most will be able to recommend a graphic designer if they can't do it in-house.
One nice extra to look for in a trade show equipment seller is the ability to create a 3-D computer model of your booth. That way, you can see how the colors and graphics you chose work together before they are actually printed.
Types of trade show equipment sellers
There are two types of sellers you should be aware of. Most take pre-built display systems - pop-up, panel, and all the other types discussed here - and customize them with graphics and other accessories.
However, for companies with more specific trade show display requirements, there are custom exhibit booth builders who will design a display system with you and build it from scratch. These types of booths are much more expensive and are usually only purchased by larger companies who attend trade shows regularly.
Trade show equipment is sold by sellers and directly from manufacturers. Working with dealers lets you make direct comparisons, because they typically carry models from multiple manufacturers.
Manufacturers and custom booth builders are more likely to be able to make any repairs you need. Resellers of pre-built systems may be able to do simple repairs on-site, but may have to ship your booth to the manufacturer or other repair facility for more significant work. Be sure to ask how the seller handles repairs, especially in emergency situations.
---
We've compiled cost estimates on a wide range of trade show display components below. The figures are taken from BuyerZone customers around the country, enabling you to budget accordingly and determine whether the quotes you're receiving are within the norm or not.
---
Trade Show Booth Pricing
Trade show booth pricing can range quite a bit based on size, brand, and the extras you choose, but here are some basic guidelines. Basic 10-foot pop-up and panel displays will run about $2,500 to $6,000, including basic graphics and accessories.
Larger displays with more components can easily go for $7,000 to $12,000, and custom-built displays can cost $20,000 or more. Both pipe and drape displays and pull-up displays can be found for around $1,000.
Take a look at actual prices other BuyerZone users paid for their Trade Show Displays.
Individual graphics can cost anywhere from $20 to $300, depending on size and material. A full photomural backdrop can cost over $1,000.
Pricing for tabletop trade show displays usually falls between $500 and $1,500; table banners run $500 to $700.
Trade show booth warranties
Trade show displays receive a lot of rough treatment from shippers, attendees, and those setting them up. You should expect a lifetime warranty on pop-up frames. Warranties on panel displays vary a bit more, lasting anywhere from two to five years.
It's a good idea to read the fine print in the agreement in case your display breaks. Some manufacturers require that you send it back to them, and this could involve more time, which could put a freeze on your trade show attendance. Others, however, can be fixed in the field or at the distributor.
Tips for Exhibit Displays
Design counts. The average trade show visitor spends less than three seconds looking at your display so your design must grab their attention quickly. Avoid complex explanations or elaborate descriptions of the company. Instead, focus on messages that will prompt visitors to stop at your booth, where you can explain everything they might need to know. Finally, begin the shopping process about two months before the show to allow time to create the proper artwork.


How to keep a display in good shape. To ensure longer life for a display, make sure it can be securely packed. Look for a display with a case that has separate space for each display component. Avoid tucking non-display components in the case.


Think about shipping expenses. Consider air freight, ground shipping, and personal car requirements when determining the overall cost of a particular display system.


Why not rent? Before you buy a display unit, you should consider renting one. An estimated 40 percent of first-time exhibitors never return to another show. Keep in mind that some sellers will allow you to apply 50% to 100% of the rental cost toward a later purchase, should you decide it is worth the investment. Compare different purchasing options from multiple trade show display sellers before you buy.


Save some money with a refurbished display. Buying a refurbished display can be a less expensive alternative to buying a new one, although you may not have any guarantees of reliability or performance. You will still have to spend money on new signs to accompany the booth.


Do a dry run. Be sure to set up your booth at least once before you get to the show. Once you know how to work a given booth, it should be easy to do. You certainly don't want to be reading about "tab A" and "slot B" while prospective customers are arriving at the show.
Ready to Compare Trade Show Displays - INACTIVE Price Quotes?