Océ ColorWave 600

First commercially-available large format full-color printer that prints on wide variety of media including uncoated plain paper
Welcome to an exciting "wave" of better business! In large format color printing, the tide has turned with the arrival of the Océ ColorWave 600.
The new Océ ColorWave 600 large format color printer will help your company:
Reduce turnaround time and accelerate project completion
4-6 times faster color production than legacy inkjet products
Color printing at monochrome LED speeds with a maximum throughput of 1,575 square feet per hour
Overall production time cut across all applications
Consolidate monochrome and color volume to reduce cost
Produce both color and black & white output on one printer
Reduce cost of legacy products: supplies, service, administration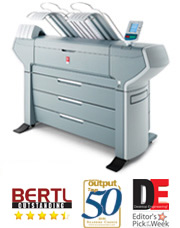 Plain paper full-color printing integrates easily into sets
Incorporate your renderings, maps or photos easily into larger sets with plain paper full-color printing
1200 addressable DPI for high quality color printing
Patented Océ CrystalPoint Technology
The best of solid toner…and…inkjet technology combined in a new process
Accurate dot positioning creates crisp lines and vibrant graphics
Instant-dry output on plain paper and recycled media
Wide range of applications in a totally clean technology
All-around Productivity
Speeds up to 1,575 square feet per hour
Up to 6 rolls at 650 feet per roll
See-through Océ TonerPearls™ toner cartridges to monitor toner level
Auto roll switching
Print on plain paper, recycled paper, vellum, Tyvek…
More Océ Information
Effortless Operation
The new Océ PowerM controller automatically determines the best quality and fastest print speed for every file
Sustainability Secure
Unique Océ TonerPearls toner makes a totally clean system: no fine dust, no odor and minimal waste disposal. The process converts solid toner pears into a gel which is then jetted and crystallized onto any type of paper or other media. By utilizing solid toner without fusing or developing chemicals, Océ has delivered a virtually emission-free printing technology that eliminates ozone or particulate emission and waste byproduct.
No ozone
No odor
No emissions
Reusable packaging and recyclable cartridges
Ready to Compare Wide Format Printers and Plotters Price Quotes?