Océ CS9000 Series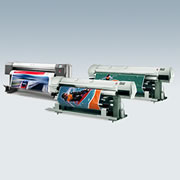 The Océ CS9000 series are all high-speed, high-quality inkjet printing systems that produce output with up to three years outdoor durability. With three models to choose from the Océ CS9000 series of printers address a wide variety of applications, media sizes and budgets. The Océ CS9000 family consists of the CS9060 64" Eco-Solvent printer, the 65" CS9065 and the larger 90" CS9090. These last two models are also available with an optional low-solvent ink system.
All Océ CS9000 Series printers offer superior print quality, speed and ink economy through the use of Océ CS9000 VariaDotTM imaging technology - the next evolution of piezo inkjet technology that enables a printhead to produce dots with variable drop sizes versus printheads using fixed-dot technology. The Océ CS9000 Series are ideal for producing indoor and outdoor point-of-sale signage, vinyl and textile banners, vehicle graphics, exhibition displays, window graphics and more.
Spectacular print quality at production speeds - all with outdoor durability
Eco-Solvent ink systems can be operated in an office like environment with no additional air purification or ventilation systems
Exceptional savings in ink and media compared to aqueous inkjet plus added benefit of higher print speeds
Print resolutions of up to 1440 dpi and print speeds of up to 452 sq.ft per hr.
Self tensioning transport systems support from 66 lb to up to 220 lb roll capacity
All models incorporate WAVE Stitching to eliminate banding
Eco-solvent ink systems deliver a very high degree of reliability and require practically no user maintenance
Dual benefits of Océ CS9000 VariaDot Imaging Technology The 3.5 to 22-picoliter range in drop sizes produced by the drop-on-demand piezo print heads altogether eliminates the need for light magenta and light cyan inks common in 6-color inkjet systems. This represents a huge reduction in ink - easily 25-35% less ink is used as a result. The Océ CS9000 image quality is further improved with Océ CS9000 VariaDot Imaging Technology. Skin tones are smooth, fine details, small text and line work are all sharp and well defined. The Océ CS9000 Series makes large format printing affordable and rewarding.
Choose your ink, size and budget
More Océ Information
Our third-generation Eco-solvent inks produce no harmful VOC's and are odor free, allowing you to produce graphics in locations previously unthinkable. No more need for an Air Purification System or costly building ventilation. Eco-solvent inks offer 3-year outdoor durability without lamination. Besides the Océ CS9060 Eco-solvent inkjet, the Océ CS9065 and the Océ CS9090 are available with either eco- or low solvent ink types and support media roll widths of 64", 65" and 90" respectively.
The Low-solvent inks offer the same 3-year durability with improved abrasion and chemical resistance, making them ideal for more demanding applications like vehicle and floor graphics. An optional Air Purification System is still available for Low-solvent systems.
Industrial strength transport
For our lower volume, budget minded users, the Océ CS9060 delivers exceptional value in a solvent printer. The Océ CS9060 can accommodate rolls of up to 66 lbs and includes a self tensioning winder unit. For more demanding production environments the Océ CS9065 and CS9090 motorized winder/unwinder systems can safely and effectively support bulk media rolls up to 220 lbs. These systems incorporate electronic self-adjusting tension bars to accurately adjust tension as the media moves through the print zone. This helps eliminate prints being wasted due to transport-related banding, as well as the need for on-the-fly stepping adjustments. The winder/unwinder also supports print side in and print side out, allowing greater flexibility in sourcing media and finishing options.
Ready to Compare Wide Format Printers and Plotters Price Quotes?