Océ TDS700

NEW! Revolutionary, Productive, and Flexible Mid-Volume System for Printing, Copying and Scanning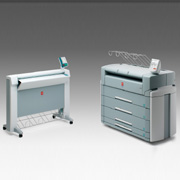 Highlights
Highly productive system with 9 D-size prints per minute and capable of running, uninterrupted, for over 10,000 square feet!
Unique, long-term investment - Ideally fulfills your current requirements and field upgradeable for your changing needs
Flexible and configurable to your environment - 2-6 roll plus cut sheet tray and two scanner options - productive high volume monochrome or color scanning
Superior output quality with 600x1200 dpi pico printing
Optimized workflow with intuitive software options
Small footprint with integrated output receiving tray on top of system
Features
What happens when you need to print a document that contains lines, text and images on the same page? You have to make a decision. If you choose to print the best quality to accommodate the image, you give up print speed. If you choose to print faster to accommodate lines and text, you compromise the print quality of the image. Now, there's no trade-off at all between crisp, rich color output and the ability to meet uncompromising deadlines with the Océ TDS700.
Océ Dynamic Switching technology simplifies printing
No longer does a user have to sacrifice print speed for print quality. Revolutionary, new Océ Dynamic Switching Technology guarantees the optimum trade-off automatically without additional adjustments by the operator. Whether the original contains lines/text, images, or both, Océ Dynamic Switching Technology eliminates any guesswork in choosing the correct print setting. This unique Océ technology automatically "senses" each part of a mixed image - from fine lines to photographs and everything in between - and determines the best print setting for these individual areas. Result: optimum print quality without sacrificing productivity.
Convenient color management gives you full control of your color output
You can select the right color profiles that meet international standards to create a workflow that best fits the type of output. If you want to generate the same output color as other devices you use (or have used in the past), the Océ TDS700 gives you the option to emulate other inkjet devices. In addition, a CAD color option is available for printing strong color lines for drawings.
Fast file processing and full queue control shortens printing time
The powerful Océ Power Logic® Controller processes large files quickly and processes the next file while the current one is printing, minimizing delays and waiting-time.
More Océ Information
Print complex files, including images with raster and vector data, productively (particularly important for high-volume color CAD and GIS users to plot maps)
Concurrent processing, printing, copying and scanning
Advanced Queue Manager gives operators full control of all pending and active jobs...change settings of printed jobs or jobs on hold; prioritize rush jobs, and reprint processed jobs
Océ Image Logic® delivers superior image quality
Proven Océ Image Logic technology has set the standard for consistent, excellent image quality. It enhances scanned images and brings the highest level of quality to your copied and scan-to-file documents.
"One touch" copying and scanning
Scanning or copying large format, hard-copy originals and color mark-ups is easy with the Océ Green Button approach. Complex operations can be performed with just the push of a single button.
10 scan-to-file destination options that include scanning to the controller, scanning to network locations or scanning to FTP enable you to share and store digital images in one step.
An innovative local control panel allows users to predefine templates, which saves time in handling recurring copy and scan jobs.
Ready to Compare Wide Format Printers and Plotters Price Quotes?