A Car Wash Franchise is a Sound Business Model
If you're looking for a proven cash business, consider a car wash franchise. A neighborhood car wash provides a fast and convenient way for customers to get a professional external and internal cleaning whenever they need it.
No matter what type of business model you choose, franchising may be a sound option. The US Census Bureau compiled the first-ever franchising report based on 2007 Census statistics. Franchise sales accounted for $1.2 million in revenue, compared to $7.6 million in revenue for all establishments. Franchise businesses remained lucrative as convenience stores, retail stores, hotels, and restaurants.
Car Wash Franchise Considerations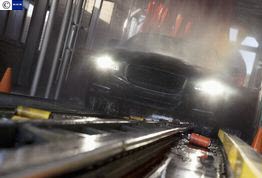 You need to keep some things in mind before going the car wash franchise route:
Permit application. You need to get a wholesale permit to make tax-free purchases for your business.


Franchise model. Which type of car wash franchise do you want to own? You can purchase one that is fully automated from wash to wax to dry or partially automated where workers do some of the manual labor.


Store location. Location plays a big factor in the success of a car wash franchise. If you live in an area that gets a lot of snow three to five months a year, people will be more concerned with keeping snow off their cars than getting it professionally cleaned. Since it can be a seasonal business, you have to be prepared for potential slowdowns.


Additional services. When considering a car wash franchise, you can keep the concept basic, or you can offer extra services to attract more customers. Some available car wash franchise concepts provide both car wash and quick lube services to cover vehicle maintenance and care.
Average Prices of Car Wash Franchises
There are two main costs associated with buying a car wash franchise:
The first, which is most likely to cause sticker shock, is the franchise fee. This is a one-time startup fee that can range be as low as $1,000 or as high as $100,000. Most are between $20,000 and $30,000, and some are non-refundable, even if you decide to pull out of the deal before opening your franchise.
The second major cost of a car wash franchise is the monthly royalty payment. This fee ranges from 5% to 10% of your gross monthly sales. Some franchises have monthly minimums that can really hurt during slow periods for your business.
When pricing a car wash franchise, the franchise fee and monthly royalty payment will be added up to create an estimated total investment amount. For example, if an initial franchise fee is $20,000 with an ongoing royalty of 5%, your total investment may range from $22,000-$49,000.
But the fun doesn't stop there. In order to prove that you have the financial capacity to open and run a new business like a franchise, you must also meet basic financial requirements. A small car wash franchise may require net worth of $60,000 with roughly $30,000 in liquid cash available; a more expensive car wash/auto service franchise with a multimillion dollar total investment may require $1 million in net worth with $2.5 million in liquid cash available.
Other Car Wash Franchise Expenses May Include:
Equipment. Could include chemicals to car accessories to cash registers.
Signs. You need signage to properly promote your car wash franchise.
Working capital. For expenses that accrue before you start generating revenue - pre-opening payroll, for example.
Advertising fees. Larger car wash franchisors typically require that you pay into a national advertising fund that goes to support the company as a whole.
Lastly, when considering a business like a car wash franchise, don't forget the time commitment involved. As you read the fine print in your franchise agreement, you may find that some companies require a 5 year renewable agreement, up to a 20 year renewable contract term.
Ready to Compare Business Franchises Price Quotes?