Finding the Best Franchises to Buy
Finding the best franchises to buy isn't an easy task. Even the top franchises with established track records like McDonald's, Dunkin' Donuts, and Jamba Juice can't guarantee that you'll succeed. Before you look for the best franchises to buy, it's important to research both the industry you're considering, and the specific companies offering franchise opportunities.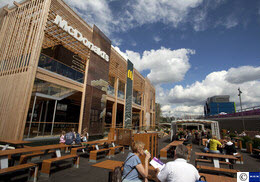 Researching the best franchises to buy
With so many of the best franchises to buy, it can be difficult to select the right one. Start by narrowing down your options. First, consider which industries your natural interests and skills align with. Do you want a retail business or a professional services company? Do you prefer networking with other businesses or having daily interaction with consumers? It's important to love what you do as it will motivate you to focus on succeeding.
Consider the following franchises, rated in the top 100 for the year 2014. Notice how they are in vastly different areas: from restaurants, to haircuts, to convenience stores!
The financial health of the parent company is critical, and gives you an indication of the current demand for their products and services. Look at revenue trends, profits, and the number of locations opened and closed recently. The best franchises to buy should open at a sustainable rate - but not so fast as to tax their ability to support you.
Gyms
Anytime Fitness: A 24-hour fitness facility, Anytime fitness is a quickly growing franchise with 1,839 locations in the United States alone. This franchise supports franchisees with ongoing training in how to best run the business, newsletters and meetings to check in with franchisees and address concerns, on-site evaluations, and lease negotiation!
Restaurants
Subway: With consistent growth worldwide and a brand name recognizable anywhere, Subway is one of the top franchise opportunities year after year. They support franchisees through training, on-site evaluations, and regular contact with franchisees and have the benefit of pervasive national and regional advertising.
Denny's Inc: Home of the "Grand Slam" breakfast, Denny's is a consistently popular restaurant destination for the American Breakfast. Total investment cost is higher for a Denny's (between $1.2 million and $3.4 million plus a $40,000 franchise fee), but it has a high rate (66%) of owners who own multiple locations, which suggests room for business growth. They also provide trainings, newsletters, on-site evaluations, and national media campaigns.
Beauty/Hair
Supercuts: Many people don't immediately think of salons when they look into franchising, but ranked #4 in Enrepreneur.com's 2014 list of top franchises, it isn't something to ignore! Numbers of Supercuts through the U.S. have remained consistent, not growing too quickly or diminishing in number. One potential drawback to this type of franchise is the low overhead. The service nature of the product combined with the time used for each haircut, the business needs steady traffic to make decent profits.
Cleaning
Vanguard Cleaning Systems: Vanguard commercial cleaning services over 10,000 commercial cleaning accounts. In addition to quickly growing business (increase in 233 franchise units between 2012 and 2013), Vanguard offers different start up options for veteran businesspeople/franchisees and new business owners. Because the franchise can be run from franchisees' homes, the start up costs are VERY low ($9,850 - $35,830). If you're interested in a service-based franchise, this may be the one for you!
Retail
Ace Hardware: One of the only retail franchises (other than RadioShack) to crack the top 50 on Entrepreneur.com's list of 2014's best franchises, this store supplies home goods, paints, and tools to people looking to improve their homes. Becoming an Ace Hardware franchisee also grants you access to sell over 10,000 proprietary ACE label products in your store!
Hopefully this brief list of great franchises opened your eyes to the breadth of opportunity there is to open your own store. While McDonald's is an excellent franchise opportunity, it is certainly not the only one!
Helpful tools for finding the best franchises to buy
Be sure to have a short list of industries to investigate so you can start looking at specific franchises. Call the major franchisors in those industries and request the Uniform Franchise Offering Circular (UFOC). The UFOC is a comprehensive report about the franchise program, financial and legal information, and sample franchise contracts. The UFOC offers a goldmine of information to help select the best franchises to buy.
The UFOC will also include information about litigation against the company and its executives. A big red flag to look for is any lawsuits filed by their own franchisees. This can indicate a company that may not deal honestly or fairly with its franchisees. Also, look for any suits against executives for fraud or deceptive business practices.
Of course, there are other sources you should turn to besides the UFOC. Read press coverage of the company, both for the news and to view how the public perceives the company. Check with the Better Business Bureau to see if these companies have outstanding consumer complaints. Even companies which seem like the best franchises to buy will have some complaints. That's fine, but look for patterns of activity that seem troubling.
Another important factor to consider is the cost to start up your franchise. Some, like Anytime Fitness cost as little as $52,290 to start based on location, etc. Others, like Hampton Hotels, require at least $3.7 million just to get off the ground. Keep in mind the capital you're working with; what type of investment will be the best for your wallet? What will let you recoup your investment the most reliably?
Be careful when doing your research - there are plenty of franchise opportunities that are either simply bad investments or deliberate frauds. Remember: if the opportunity seems to good to be true, it probably is. Any franchisor that asks for money before giving you the UFOC is breaking the law and could be a scam. Also, keep an eye out for trendy franchise concepts and fads - the best franchises to buy have solid business models and proven success, not just buzzwords and slick marketing materials.
Where to find the best small franchises
If you're looking to purchase the best small franchises available, use our free request for franchise quotes service. We'll get you in contact with up to six different providers who will review your finances and business history, and recommend the legitimate opportunities that best fit your entrepreneurial spirit.
Ready to Compare Business Franchises Price Quotes?