Hotel Franchise Trend Forecasts Past and Present
Changing demographics are opening up the pipeline for hotel franchising. Consumers' passion for lifestyle experiences, both in their master planned neighborhoods and in their travels around the world is sparking fresh thinking about how hotels should look, which amenities they have to provide, and even where they need to be. The result is a new wave of opportunities for brands nimble enough to make the leap to retail thinking, and a new bevy of opportunities for potential investors.
Hotel Industry Trends
New targets are emerging as consumers create demand for hotels in regions with fast-track economies and in destinations that indulge their obsession with experiential travel. "It used to be that hotel developers looked for sites near office buildings. Now, they are looking at mixed-use projects that blend residential with a hotel, entertainment, good restaurants and interesting retail," says Ted Darnall, president, Starwood Hotels & Resorts' Real Estate Group. "More and more, we see hotels taking the place of 'anchor stores' in lifestyle centers."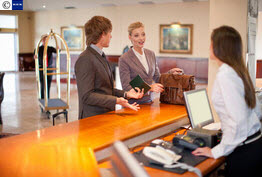 He also points to the upside of evolving micro-economic markets two or three cities of 20,000 to 25,000 connected by a highway. "The cost of land, the cost of building materials and the brain drain of doing big box projects in big cities is sending some developers into the markets growing up along new highways," he says. Demand in these composite markets is broadening growth prospects beyond select-service to include strategic sites for core mid-tier concepts and, to an even greater degree, for extended-stay brands that can cater to business and leisure travelers.
How to Get Started
Potential investors must request information from their hotel chain of choice. Generally, the information packet sent includes an application for franchise consideration. Once submitted, the applicant must go through a series of interviews and meetings to ensure the interest of both parties. Financing options are discussed, and if requirements are met, the candidate will meet with corporate leadership to finalize the property opening. Depending on the chain, the candidate may be required to spend training time in a nearby property, in a variety of roles.
Although franchisee fee and financial standards and criteria differ from chain to chain, some common franchise requirements exist. One such industry standard is an initial and monthly fee structure. The initial fee is usually paid upon submission of the franchise application.The initial fee typically takes the form of a minimum dollar amount based on a hotel's room count. For example, the initial fee may be a minimum of $45,000 plus $300 per room for each room over 150.
Additionally, continuing fees commence when the hotel assumes franchise affiliation, and generally occur monthly. Other fees exist for royalty, reservation system use, advertising/marketing, and other miscellaneous fees related to additional services. The dollar amount of these fees varies greatly among economy, mid-rate, and first-class brands.
Franchisee criteria vary among chains and brands, but basic requirements include credit approval, financing approval and availability, a solid history of hospitality experience, and strong interest in hospitality business ethics.
What Do Franchisors Want in a Franchisee?
To keep their franchisees loyal, brands need to address some tough issues. John A. Belden, president and CEO, Davidson Hotel Co., a Memphis-based independent operator with a 6,200-room portfolio, ranks these topics high on franchisors "to do" list:
Get tough on amenity creep. "I have not spoken to any owner or operator who is not frustrated with the current level of amenity creep. The brands are trying to play catch-up after the last downturn, and they are trying to do everything at one time. That places a substantial financial burden on owners. It is great to reinvest in the assets. But, if there is no discernible competitive advantage, what have we accomplished?"
Stress hospitality, not just new products. "Brands put too much emphasis on "product one upsmanship" and not enough on service and hospitality. The art of hospitality is about creating an emotional connection with our guests. More emphasis should be placed on the experiential side of the business. Franchisors are too focused on coffee makers, desks and chairs. These items are important. But, to separate your hotel from the pack, you must have a sustainable competitive advantage. A new coffee maker gives you an advantage for only three or four months before your competitors match it. Hospitality is more difficult to deliver, but it can be done. This is where brands, owners and operators should focus."
Create a clearly defined brand image. "The difference among brands is beginning to blur. Some focused-service brands are nicer and get higher rates than their full-service sister brands in the same market. This creates an unintended identity crisis for guests, especially in major markets. Travelers can become confused about what the brand is supposed to deliver and at what value. Brands need to be more disciplined in their product differentiation and positioning.
Deliver on territorial protection. "Brand blurring takes on an even greater significance because protected territories are getting smaller and are becoming bifurcated within each brand. You not only have to worry about the same flag appearing down the street, but about a sister brand with many of the same perceived characteristics going up across the street."
Today, hotels still represent a massive franchise industry, with growth spurred by the popular introduction of online reservation booking in the past decade. As the US economy continues to recover, residents are expected to spend a total of $749.8 billion on travel from 2013-16; this will only serve to boost hotel franchise sales both domestically and abroad.
Ready to Compare Business Franchises Price Quotes?