Buying a Dunkin Donuts Franchise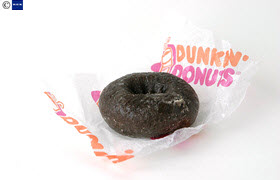 New England-based Dunkin' Donuts has been steadily climbing up the rankings of the country's most successful franchises: They rose to #13 on Entrepeneur.com's Franchise 500 list for 2013. You can be a part of this success by starting your own Dunkin' Donuts franchise.
Dunkin' Donuts franchises at a glance
Dunkin' Donuts currently has 10,479 locations with over 7015 franchises in the US; they are actively looking for new locations. Dunkin' Donuts advertises "hot" franchise market opportunities in areas like West Virginia, Reno, Tulsa, Southern California, and Oklahoma City.
Dunkin' Donuts provides new franchise owners with a complete marketing strategy, training and support, and coffee trends forecasts to support their business concept.
The process of opening a Dunkin' Donuts franchise is as follows:
Apply, providing proof of citizenship, credit, and assets.
Develop a business plan, choose a territory, and meet with a franchise manager.
Conduct an in-depth financial review, including background checks and legal documentation.
Get approved and sign a store development agreement.
Prepare for a grand opening, including leasing a site, starting construction, and training a crew.
As with most franchise opportunities, though, opening a Dunkin' Donuts franchise requires more than just commitment and hard work.
Location, Location, Location
While you may be able to point to a Dunkin' Donuts franchise near you that always seems busy, there's no guarantee that your franchise will be that successful. It all comes down to finding a viable location. Dunkin' Donuts provides more flexibility than many franchises since they can operate as stand-alone buildings, in strip malls, as free-standing kiosks, or even located completely within larger stores.
However, finding a suitable spot to open a new Dunkin' Donuts can be a real challenge. You'll need to consider real estate costs, foot and vehicle traffic patterns, nearby competitors, and zoning restrictions (part of step 5 in the franchise process above). Locating your franchise is a job that may require you to get help from a franchise consultant, commercial real estate professional, or even from the Dunkin' Donuts corporation.
In order to comply with your franchise agreement, Dunkin' Donuts provides the following preferred site location criteria:
¼-2 acre lot; 1200-2600 ft.²
Drive-thru available
High-visibility location
24 hour operation option
1 parking space minimum per 3 seats
Easy entry/exit
Do You Have What it Takes to Operate a Dunkin' Donuts Franchise?
As with any franchise, you'll have to demonstrate to the franchisor that you have both the skills and the capital to make your new Dunkin' Donuts franchise a success. A failed franchise is a risk to the corporate brand, as well as a drain on their time, so the corporate franchise board is looking for new franchisees that have a high probability of success.
Opening a franchise requires a significant investment. In addition to a franchise fee of $40,000 to $80,000, you'll have to have at least $250,000 in liquid assets available to cover the costs of startup:
Building out the store
Buying equipment
Hiring workers
The Dunkin' Donuts franchise support team can help you through these steps, but you need to provide the capital. Dunkin' Donuts will assess your total net worth with a minimum requirement of $500,000; taking into account ongoing royalty fees at 5.9%, an estimated total investment for a Dunkin' Donuts franchise could cost from $310,000 to $1.7 million.
In addition, Dunkin' Donuts will look at your experience in the industry. The quick service restaurant (QSR) industry is ultra-competitive and fast-paced. If you don't have previous experience managing or operating a QSR, you're unlikely to get approval to open a Dunkin' Donuts franchise.
If a Dunkin' Donuts franchise seems like it might be a little much, there are many other lesser-known food and beverage franchisors out there. You should consider working with a franchise agent to find the right option: Franchise brokers can assist you in choosing the ideal business model for your situation, as well as help negotiate with the corporate parent when needed.
Ready to Compare Business Franchises Price Quotes?