Steps to Becoming a Chick-fil-A Franchise Owner
Chick-fil-A, the privately-owned restaurant chain based in Atlanta, Georgia, is one of the most successful fast food restaurant establishments in the country. With over 1,300 locations in 37 states in the Southern U.S., they continue to grow the brand by expanding to new territories every year. Out of the 20,000 franchise inquires that Chick-fil-A receives per year, only 0.4% (around 80 submissions) are selected to become new Franchise Operators. Understanding what the application process is like, and knowing what Chick-fil-A is looking for will increase your chances of getting accepted.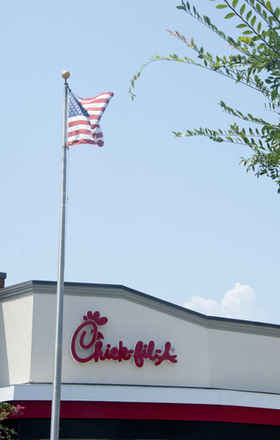 It's important to note that a Chick-fil-A franchise is different from other franchise restaurant opportunities. First, you don't actually become the restaurant owner, but rather the operator. This is because the parent company maintains full ownership of each location, but relies on successful businesspeople to operate each restaurant.
The parent company has very strict rules and values that you must adhere to. Among the most unique qualities of Chick-fil-A is that they strongly promote family values. As such, all franchise owners are required to close operations on Sundays - a typically successful day for fast food establishments - and urged to spend the free time with their families.
What's required to get a Chick-fil-A franchise?
Unlike most franchise opportunities that require an up-front investment of several hundred thousand dollars, you only need to commit $5,000 for a franchise. However, the parent company takes a greater percentage of your recurring business over time - 15% of gross sales and 50% of net profits each month. In addition, Chick-fil-A builds the restaurant on property they select and subleases the property back to you.
Unfortunately Chick-fil-A franchises aren't open in every area in the United States. Here are the following growth areas that Chick-fil-A operates in:
Connecticut
New Hampshire
New Jersey
New York (Long Island, New York City)
Maryland
Massachusetts
Pennsylvania
Rhode Island
North Carolina
South Carolina
Georgia
Florida
Ohio
Wisconsin (Racine/ Milwaukee)
Illinois

Louisiana
Minnesota (Minneapolis)
Iowa
Missouri (St. Louis)
Nebraska (Omaha)
Kansas
Texas
Colorado
Idaho
Utah (Salt Lake City)
Arizona
Washington (Seattle)
Oregon (Portland)
California (San Francisco Bay, L.A. County, Orange Country, San Diego County)
The Chick-fil-A company wants you to succeed so they provide you with all the tools you'll need to live up to their high expectations. As a franchise operator, you'll get complete training and development courses to address different business challenges you'll face. And if you exceed expectations, the parent company offers recognition and incentive programs that run the gamut from gift certificates to automobiles.
In order to run a franchise, you need to be a born leader. The parent company requires several years of prior experience managing businesses from the ground up and showing a history of success. In addition, this isn't a hobby you can do on the side: you must be hands on and dedicate yourself exclusively to the business.
Qualities of a Franchise Operator
You will be completely responsible for the sustained growth of your franchise. This doesn't mean you're expected to double profits overnight. Quite the contrary: the parent company wants you to have steady, growth over a period of time and they will work with you to get you there.
To become a successful franchise operator, you must be dedicated to developing a strong team. It's part of the Chick-fil-A company's standards to have a strong HR presence that brings in only the most qualified and dedicated staff. This way, you help create a positive work environment with minimal turnover to provide the best experience for your customers.
When you become an operator, it's important to maintain a visible presence in the community. Chick-fil-A is known for their charitable contributions such as scholarship programs and sponsoring charity basketball tournaments. You need to keep your eyes open for similar, localized opportunities that shed a positive light on your franchise.
Ready to Apply for a Chick-fil-A Franchise?
If you feel you have the qualities of a successful franchise operator, you can get started by performing your own research, or finding a broker with BuyerZone's free request for franchise businesses quotes service. We'll match you up with as many as six different suppliers who will review your finances, discuss your future aspirations, and make sure you're a strong candidate for the Chick-fil-A family.
And if you're not selected as one of the chosen few to run a franchise, don't fret. You can still explore many other franchise opportunities in the restaurant, retail, and professional services industries.
Ready to Compare Business Franchises - INACTIVE Price Quotes?