The History and Future of Donatos Pizza
They say hindsight is 20-20. Just ask Donatos Pizza founder and CEO James Grote, who sold his then-rapidly growing chain-lock, stock and barrel to McDonald's Corp. in 1999 for about $150 million. It's also been said there are no second acts in American lives. But Grote and his daughter, COO Jane Grote Abell, aren't buying it. After reacquiring the regional chain in December 2003 for an undisclosed sum, they have opened a new prototype, introduced new products and stemmed the flow of red ink.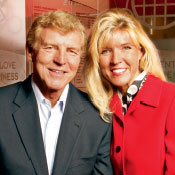 Donatos CEO James Grote and his daughter, COO Jane Grote Abell, in the company's new prototype, a dramatic departure from the pizzerias former owner McDonald's opened from 1999 to 2003.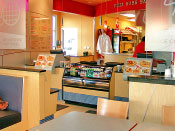 Donatos is still tweaking its brightly colored prototype, which features an open kitchen.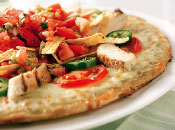 Donatos' new prototype features seven different dough products, among them Santa Fe Chicken, topped with fresh jalapenos and corn chips.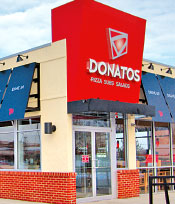 Donatos' new building strategy is to adapt elements of the latest prototype to the site, increasing the number of spots from which to sell pizza.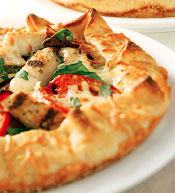 The menu at the prototype features several pizzas, like the Timpano, available nowhere else in the Donatos system.
"We took over a bunch of liabilities, but we were left in a position that we could handle them," says Grote, whose family owns 70 percent of the business. Senior management and employees own the remainder.
Getting Started
The Donatos process remains simple and straightforward, attempting to draw investors with an established market share and an approachable leadership team. Steps in the franchise process include:
Initial Contact and Qualification
Web Conference
Business Planning and Due Diligence (60-90 days)
Home Office Visit
Deal (within a month of Step 4)
Turnover
Grand Opening
Criteria for franchisees are standard for hospitality chains, and include $500,000 of cash or non-borrowed assets, a $3,000,000 net worth, a 3-5 store commitment, and 5-10 years of restaurant experience. Donatos expects investors to spend $380,000 and $681,900 for the initial setup process, which includes all applicable corporate fees. This is significantly more expensive than other pizza fast-food chains, such as Pizza Hut, which estimates start-up costs of only $295,000 to $422,000. However, the cost of opening a Donatos Pizza franchise is bolstered by a reputation based in upscale, artisanal atmosphere and ingredients---a trend that has gone from fad to quintessential in the past decade. Additionally, a close-knit corporate culture ensures franchisees are never left to their own devices, and many find that is support worth paying for.
Available Markets
Available markets are ever-expanding, and presently include southern, East-Midwestern, and Mid-Atlantic U.S.
Midwestern states such as Illinois or Michigan, and Southern states such as Georgia or Florida, are considered to have some limited opportunities available, while key growth areas include North/South Carolina and the Indiana, Ohio, and Kentucky areas. Donatos has a firm grip on the Ohio market, holding a 35% market share in Columbus.
Snapshot
Concept: Donatos Pizza
Headquarters: Gahanna, Ohio
2013 Total Sales: $166 million
Units: 65 company stores, 111 franchise
Average Unit Size: 1,200 to 2,200 square feet
Expansion Plans: Slow but steady growth in the Midwest and Mid-Atlantic
A Bright Future
"In the old model, we had real separation," Chief Concept Officer Tom Krouse recalls. "The room was dull, dark and without energy." He is referring to the larger units McDonald's called pizzerias, casual-dining-like eateries with menus and, oddly, telephones at each table from which customers called in orders. Often a worker served as both hostess and order-taker, scampering back to the kitchen after seating a party only to answer their phone call. The system confused customers, as did plastic plates and forks.
Franchisees didn't open pizzerias, perhaps scared off by the cost, which climbed to as much as $1.6 million, officials say. Abell recalls that during McDonald's tenure, equipment innovation was prized. "Under the Arches, it became about the patent and innovating on equipment," she says, remembering chilled racks over the make station that required a compressor. Today, she adds, "We look at an equipment package and buy what we need."
By contrast, the new prototype, which costs just $450,000, may prove attractive. "Investment had gone up with the pizzerias. It was an easy thing to bring back down," Abell says. Donatos won't share specific unit-economic information but does say the prototype can make money with weekly sales of over $15,500.
Ready to Compare Business Franchises Price Quotes?