Presence Abroad Means Success at Home
The scope of the opportunity presented by China's emerging economy can be dazzling, beguiling, even overwhelming: a population of 1.3 billion; more than 50 cities with populations in excess of 1 million; and a developing middle class that is projected to be larger in number by 2020 than the total U.S. population.
For food service, the prospects look especially alluring, given Chinese consumers' traditional affinity for food away from home, and McDonald's Corp. is putting in place a disciplined plan to establish itself as a dominant brand in China. It has nearly 2,000 units in China now (the first opened in 1990), and ranks 324 in the brand power index.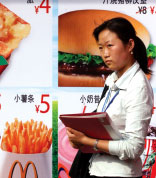 McDonald's intends to have at least 1,000 units in China in time for the 2008 Beijing Olympic Games, with 50% of the new stores offering drive-thrus.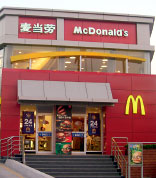 An alliance between McDonald's and Sinopec, China's largest oil company, is key to the QSR's drive-thru plans.
The corporation's expansion plan in the Chinese market is simple: grow China as a key market, more like the U.S. in terms of the franchise's fast-food dominance. Successful growth overseas makes this investment opportunity ideal for franchisees on American soil.
Expanding Opportunity
McDonald's is especially positioned for international growth, as it is one of the least complex, and most franchisee-friendly fast food opportunities. Unlike existing chains, McDonald's leadership strongly encourages new franchisees to purchase an existing restaurant, which not only lowers start-up costs, but minimizes time until opening, or eliminates training time altogether. The down payment on an existing restaurant is only 25% of the total value, as opposed to the 40% of a new restaurant. After the initial payment, there are very few fees: Franchisees pay a service fee of 4.0% of total sales each month, and may need to pay a rent fee based on property operated.
McDonald's is world-renowned among fast food chains for its franchisee training. Some highlights of this preparation include:
9-18 months of training in a restaurant close to the franchisee's home
Self-directed, part-time training
Provided seminars, conferences, and one-on-one training sessions
Hamburger University, a McDonald's training campus that ensures high levels of quality control across all channels
Finally, the application process itself is fairly streamlined. Eligible franchisees (those with at least $500,000 of non-borrowed personal resources) fill out an online application, and then asked to complete a series of interviews, evaluations, and in-restaurant training experiences to confirm the interest of both parties. Operating franchisees receive the full support of the McDonald' corporation, including newsletters, conferences, and meetings with field operators.
The Plan to Win
McDonald's "Plan to Win" operations strategy is the same in every market, focusing on the "5 Ps": people (service); products (menu); place (dining experience); price (value); and promotion (connections with consumers). "What's different is the local focus each country adds to meet the needs of its customers," Fenton says.
For China, that means providing the core McDonald's menu (Quarter Pounders, Big Macs, McChicken, Egg McMuffins and others) along with items tailored to local taste preferences.
Such products are bringing Chinese consumers in the doors, moving units average about $1 million in sales. While guest counts are good, operating margins are lagging: 12.8% for APMEA (and slightly less for China) for the first nine months of 2006, compared with 19% for U.S. company-owned stores and 16.2% in Europe.
Ready to Compare Business Franchises Price Quotes?