Conceptual Thinking: P.F. Changs Founder Forges Ahead in Restaurant Innovation
The P.F. of P.F. Chang's China Bistro - and, not incidentally, the Fleming of Fleming's Prime Steakhouse & Wine Bar as well as the Paul of Paul Lee's Chinese Kitchen - is sipping soda water laced with bitters to "aid digestion." Good thing. He's just knocked off a plate of pot stickers and is about to dig into highly seasoned chicken, beef and scallop dishes at a P.F. Chang's in Newport Beach, Calif.
Paul Fleming, meanwhile, is talking about his current ventures, including two new concepts: Blue Coral, a pricey seafood house scheduled to open in June in Newport Beach, and Paul Martin's American Bistro, a "San Francisco-style" restaurant he named after himself (Martin is his middle name) that will debut this year in Scottsdale, Ariz.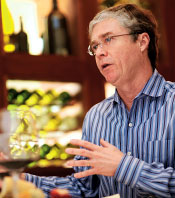 Concept creator Paul Fleming, who has spawned a half-dozen concepts, is on the lookout for small restaurant companies with sales of less than $10 million.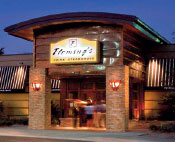 The soft-spoken entrepreneur began his restaurant career as a Ruth's Chris Steak House franchisee 22 years ago. It is where he launched P.F. Chang's in 1993, where he put the first of four Paul Lee's Chinese Kitchens and where Fleming Restaurant Management is headquartered. He recently named Ed Bartholemy, formerly of Mimi's Cafe, president.
Fleming, 52, re-entered the restaurant business in 2003 after retiring three years earlier to help President George W. Bush push his faith-based initiative. Chastened by Washington politics, Fleming returned to Scottsdale and created Paul Lee's. As with Fleming's Prime, he convinced Outback Steakhouse to invest in it. Blue Coral is another joint venture with the Tampa-based company, which sold its interest in Paul Lee's back to Fleming.
Fleming's Restaurants Float, in Spite of Recession
Fast-forward to 2011, and Paul Fleming remains unstoppable - despite the recently sluggish economy. Fleming introduced a new restaurant concept in Orange County in 2011, Paul Martin's American Grill. The restaurant focused on farm-to-table cuisine and advertised homemade, seasonal dishes to local diners.
At the time, Fleming recognized that farm-to-table dining was a culinary fad. He stated, "I know you hear a lot of about farm-to-table, and it is [an] overused [term], but we are serious about it." The first Paul Martin's Bistro opened in 2007 in Roseville, California, with great success seen in a three-course dinner for $30 to cater to diners on a budget.
Perhaps one explanation for Fleming's restaurant success is in his ability to capitalize on a dining trend while it is still in demand. Fleming opened his first P.F. Chang's location to provide high-quality, moderately priced Chinese food and was met with a line out the door in the first hour. P.F. Chang's has since expanded to 204 bistros in 39 states, as well as 170 fast casual Pei Wei locations in 23 states as of 2012.
The Pei Wei Asian Diner demonstrated that the niche for Asian fast food is larger than anyone thought. P.F. Chang's China Bistro proved that Chinese food and a casual-dining environment are a potent team, particularly when combined with American-style service.
Paul Martin's, offering "Local. Seasonal. Delicious." food, could very well see the same fate thanks to Fleming's expertise in the industry and a focus on contemporary farm-to-table cooking. Paul Martin's currently has four locations in California with plans to open a fifth bistro in 2013.
Paul Fleming Speaks: New Restaurant Acquisitions
Developing new eateries isn't Fleming's only preoccupation; Fleming Restaurant Management is also investing in and acquiring restaurants, in particular, those with sales of less than $10 million. It's a niche that's all but ignored by private-equity firms, he says.
Did the sudden rush of private-equity firms into the restaurant space surprise you? Or did you see it coming?
I'm more surprised at the multiples than that it's happening. But just the fact that these sophisticated companies are still buying restaurants is encouraging. They must feel good about the industry, which is always flattering. However, I think some restaurant companies are really for sale because the multiples are so high.

There are deals out there that we're not pursuing, for whatever reason - too early-stage, infrastructure isn't ready, they haven't opened in enough cities. But [these companies] are still getting offers.
When you say "we," are you talking about your company or a private-equity firm?
In my business now, we own our own restaurants, develop our own concepts and invest in other businesses. We also partner up with [private-equity] people like [Oak Investment Partners'] Jerry Gallagher or [Catterton Partners'] Michael Chu. But we don't work with them daily. They have their own businesses.
Where are your interests in that mix?
[Operations] is not my forte, which may surprise people. It is really development, conceptual and targeting new investments. We have had great luck in targeting the right companies, by the way. We just haven't been able to pay as much as some people wanted. I'd like to spend much more time on the investments and conceptual work, and have my partners do the operating.
Which restaurant companies are you interested in acquiring?
We are looking at a neat company, which I can't mention. It's founder-run and run very well. It's a great value-oriented company, and what we could offer them is experience and growth, not just operations but how to build an infrastructure. They actually have a great family management team that we wouldn't fool with. But they need development officers and maybe other things. We are not going to operate the business, however. But we expect to have voting rights and be very active on the board. Some people may equate that with operating. I don't.
How do you perceive your role as a board member?
I think boards run businesses. A lot of people hate that thought. Management is the board's partner in the business, but you have to separate the two.

If you are a board member, your job is to represent your shareholders - and that includes consulting and helping the management team.
Tell me about Paul Martin's American Bistro.
We are trying to figure out how to have a Napa Valley or San Francisco sensibility about it - even from a service level. If you go to good restaurants in San Francisco, for example, it is very bohemian. Servers have tattoos and piercings, and yet it's professional service and better service than you find in most of the country. You let people be themselves without being ridiculous. You just hire the best people. You don't judge them. And you don't have them be generic.

[Paul Martin's] will be a combined $15 check average& - lunch and dinner. Maybe $12 for lunch and $18 to $20 at night. We will buy organic, free-range chicken, grass-fed beef, line-caught salmon, artisan cheeses and Tamales Bay oysters. The lease is almost signed.
Will it feature display cooking like some of your other restaurants?
I don't think so. I'm not that big on open kitchens anymore. I am going away from them. The only thing good about open kitchens is you can see how clean your restaurant is. We are creating something, maybe, a little quieter and a little cozier. Even though we want to have 60 wines by the glass, we won't have a huge bar scene. Really, that's what I have been my whole life. I am a food guy, not a bar guy.
And then there's the Outback joint-venture Blue Coral, set to open here on Fashion Island in June. What's been the thought process?
Outback and I like the dinner-house business. We wanted to have an alternative to Fleming's and something that didn't compete with Roy's or Fleming's. More than that, Bill [Allen, Outback CEO] and I like the seafood category, particularly the high end of it. So we want [Blue Coral] to be the alternative to Fleming's at night in the $35 to $50 range.
Why that range, and why seafood?
Well, we don't want to compete with Bonefish Grill, and the seafood category hasn't been consolidated the way other dinner-house restaurants have been. That's not conjecture. Throughout the country, [the category] is all independent owned. The intent is to open two, here and in La Jolla, and do it right.
How did you structure the deal with Outback?
The deal on Blue Coral is they own 75 percent and I own 25 percent, and we both put up our own money. We don't expect them to carry us. But they are such fabulous partners and offer us such leverage in anything we do - even culturally - that I want to be in business with them.
What kind of time does Outback devote to the project?
It's a big priority for them to develop these brands properly. [Outback founder and former CEO] Chris [Sullivan] and I and Bill work closely on these things. It is watched closely from the top and developed with the founders of the company. They've done that with all their concepts.
And then there's Paul Lee's Chinese Kitchen.
Paul Lee's was intended to be a Chili's with Chinese food. It's not in the P.F. Chang's category, and it wasn't meant to be a competitor. We are having moderate success. We are trying to figure it out, to tell you the truth.
What were you trying to do with it? What niche is it supposed to fill?
It was meant to be right between P.F. Chang's and Pei Wei Asian Diner. More of a family-style, neighborhoody place without big alcohol sales but with big lunch and dinner business. When we started it, we changed it to a dinner-only, and that model doesn't work. So we're doing good people counts, but our check averages are not real high.
Is there a solution?
We are trying to get [Paul Lee's into] higher profile sites, more like Chili's and Olive Garden, and to be more family oriented. We went into neighborhood deals thinking we would do just dinner business.
Are there issues on the menu side?
We started with an odd menu: curry sauces and all kinds of wild-ass dishes. And we wanted to be completely different from all Chinese restaurants in America. And what we found is the things that sell at mom-and-pop Chinese restaurants are the things that sell at all Chinese restaurants. In other words, Mongolians, sweet and sours, dumplings. So we consolidated the menu back to what people eat.
Are you saying you don't have to look for a competitive point of difference with the menu?
We do. Our competitive point was it's value-driven. It's much less expensive than P.F. Chang's. Paul Lee's wasn't meant to be bar driven.
So food wasn't the issue?
We have had great food comments. There is something else, image-wise or location-wise. Head counts are very good, but people just stop, eat and get out. They don't take their time and don't have beer or wine. They are buying just what they want. We wish they were buying beer and wine. Casual-theme restaurants, in general, have much higher beer and wine sales than we do.
How old is the concept?
Just a year old. We did four in a year (laughs). So we will do one more this year, and we'll be changing the prototype. We have two out in Phoenix and one in Las Vegas and one 3,000 miles away in Tampa. And it is just too hard on us to operate it from Phoenix. So we are selling the one in Tampa to Carrabba's [a division of Outback]. But the other three we are going to operate and see what we can do with it.
Biography
Hometown: New Iberia, La.
Education: Bachelor's Degree in Criminal Justice, 1976, Loyola University (New Orleans)
Current Position: Owner and founder, Fleming Restaurant Management, Scottsdale, Ariz.
Ladder-Climbing: Founded, co-founded or founding partner of Paul Martin's American Bistro, 2005; Blue Coral Seafood & Spirits, 2004; Paul Lee's Chinese Kitchen, 2004; Pei Wei Asian Diner, 2000; Fleming's Prime Steakhouse & Wine Bar, 1998; P.F. Chang's China Bistro, 1993; and Z' Tejas Southwestern Grill, 1989
Hobbies: Wine, food, boating, reading, charity, running
Recent Reading: Marley & Me by John Grogan and The Plot Against America by Philip Roth
Personal: Married for 25 years; two children, ages 23 and 22
For all your successes, Paul, has this concept really tested your business skills?
It's been tough because expectations are high. I know we are going to figure it out, and we'll open another one this year. But it is sensitive and tough because I didn't want to compete with my former partners [at P.F. Chang's]. At the same time, I have a responsibility to Outback and want to be successful for them. That's a pretty fine line.
What do you see your skill set being today?
Clearly, what I like to do today is conceptual work. But I think I've matured enough that I take shareholder responsibilities very seriously. I think I represent the people who invest in our business real well. Which is a huge leap from where I came. From just being a [Ruth's Chris Steak House] franchisee and then a conceptual person, I've matured into somebody you can trust. Maybe it's not the most important thing you can do right now, as far as creating jobs goes. But at least I'm representing people well.
How do you see your own job evolving?
More than anything I've done in the last 22 years, I like what I am doing now. I like having a high-profile, smart partner. Ed [Bartholemy] helps identify investments and runs the business.

I stay active at conceptualization. Last year has been one of the most fun years I've had in a while. Even with the struggles, it's a neat position to be in.
Ready to Compare Business Franchises Price Quotes?