Safe and Sound: How to Pick a Home Security System
It's difficult to know where to begin when comparing home security systems, especially if you're a first-time buyer. Whether you want to start with something simple or you need a more complex system, your mind is probably full of questions:
What kind of features do you need?
Do you need home monitoring as well as an alarm system?
If you only use a cell phone, will you have to install a land line to install a security system?
Here are some factors to look for when you're shopping around.
A solution that offers wireless capabilities as well as basic features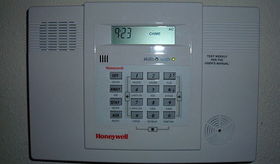 No matter the size of your home, every security system should provide several basic, reliable features, including an alarm and a monitoring system that notifies trained agents who will respond to your alerts within seconds. Many systems now include digital features, such as the ability to send notifications by text and email, and are Wi-Fi compatible.
It might be a good idea to invest in a system that has full wireless capabilities. With wireless home monitoring, you don't need a land line — and even if you do have one, wireless monitoring is still a more reliable option during power outages or in case an intruder cuts your phone line.
A solution that offers customizable packages:
If you're afraid of paying for a deal that includes features you don't need, or doesn't include one you do, find a solution that lets you create a customizable package. You might already have carbon monoxide detectors in your home, or live in a rural area that requires remote monitoring.
In cases such as these, businesses such as CPI Security Systems let you customize your own security package. You create your own system by adding outdoor cameras, remote door locks, broken glass detectors, fire safety options, and more, depending on your home's specific needs.
A solution that can extend beyond your home
When comparing home security systems, a system like ASG Security may be the solution if you're looking for something that will also work for your small business. Although home and business systems have many of the same features, systems for small businesses are generally more complex and include additional features such as one-way sirens, motion detectors, commercial burglar alarms, and a higher number of surveillance cameras.
When comparing home security systems, start by making sure that the solution has a basic set of reliable features, as well as wireless capabilities, customizable options, and the ability to extend beyond residential capabilities if that's what you need.
Ready to Compare Home Security Systems Price Quotes?