How Much Does a Home Security System Cost?
What is the cost of a security system? Depending on the needs of your home and family, it can be quite affordable for the installation and services. We regularly survey BuyerZone users to ask how their home security purchases went. We've used their responses to provide a sampling of actual prices for an idea of what home security systems cost. You can find a range of home security costs from multiple companies below.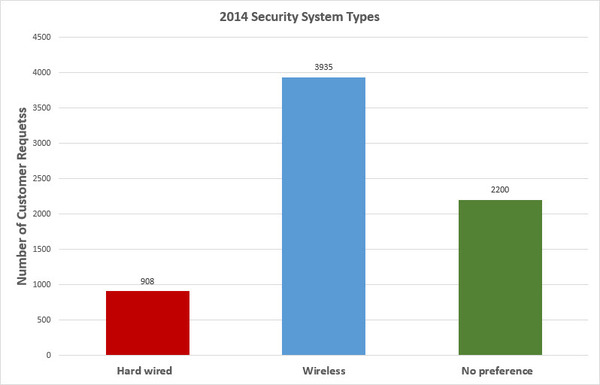 Type of Systems Requested in 2014
While hard wired systems are still an option for homeowners, there has been a consistent trend over the past few years moving towards wireless technology and automation in home security. At this point the cost of a security system doesn't vary much between hardwired and wireless options.
Home security systems carry monthly monitoring fees which are usually locked in for three to five year contracts. Equipment warranties can add a few dollars per month.
Your monthly fee will typically include basic equipment - door contacts, motion detectors, glass break sensors - for free. Keep in mind that even with free equipment a vendor may charge you for system installation. Advanced security features such as two-way monitoring, key fobs, pet sensors, and fire alarms will usually cost extra.
Systems are available in hard-wired and wireless home security systems. Existing wiring makes it easy to install a new alarm. Otherwise, wireless systems prevent you from having to drill holes, lift carpets, or run wires throughout your house.
Home security services with free equipment
"Most security services had a contract to sign for 3 years for the cost of the security system. I chose one that gave of a rate of $27/mo. We got the equipment for free from a local company due to their low overhead." -- Columbus, Ohio
"First and last month fees paid ahead. $29.95/mo all security features were free ($295 value). Code box, 3 door sensors, 1 motion detector, yard and window signs. Self install wireless system (but they called and walked me through it anyways). Paid $99 for an extra glass break detector. Very professional, very courteous and nice. Best customer service." -- Aliso Viejo, California
"$108 Installation; $31.99/mo for 3 years. Included alarm keypad, 2 key fobs, 3 door entry and 6 window sensors, sign in yard and screwed to back fence, and a bunch of window decals." -- Phoenix, Arizona
"The system was a basic system - wireless and was offered free for a 36 month monitoring contract at $33.87/month including taxes and service on parts." -- Colchester, Connecticut
"The cost was $0. However, they required 1st and last month payments from a required 3 year contract with them. The cost per month is $29.95. They gave me a couple of key chains for free. I purchased an extra door alarm at a reduced rate of $60." -- Spokane, Washington
"$33.95/month. Free installation, activation & hardware." -- Massillion, Ohio
"Free, 8 door window sensors, 2 talking keypads, motion sensor, smoke alarm, 1 siren, 1 72-hour backup system, 1 transformer lawn sign, window stickers, and phone jack. $28/month for three years." -- Youngstown, Ohio
"$26.05 per month for the full monitoring service. If I wish to add the equipment warranty it will be an extra $6 per month." -- Struthers, Ohio
ADT prices, Broadview prices, Honeywell prices, and more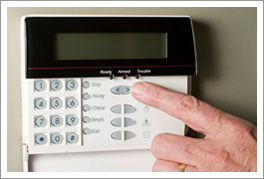 "$59.95 for first and last months' payments. The home security system was "free." Included in the system are three perimeter sensors, one motion sensor, a control panel, and as a bonus for signing up with Protect America, a wireless control panel. The contract is for 36 months at $29.95 a month." -- Toppenish, Washington
"Only cost was the initial ADT activation charge of $99 - Arizona Detection Team actually reimbursed me that money - so really, no cost. Alarm system with 4 doors covered. 10 windows covered (wireless) and 1 motion sensor." -- Surprise, Arizona
"We are paying $1,800 for our system, but we're also securing our garage. The equipment is made by Honeywell. The service contracts were pretty much all the same: 3-year monitoring and the equipment is yours to keep after that. The sales person at all the companies were very informative, we were just more comfortable with Nighthawk and the way he wanted to place the different equipment." -- St. Paul, Minnesota
"The system offered was "free", but did not offer what we needed. So the owner offered to upgrade for a price per opening instead. We paid a total of $378 for this system, which covers 22 openings, the keypad, and two remotes. We also signed up with a service contract with ADT." -- Tonopah, Arizona
"$99 installation, $35.99 per month for ADT security system through Security Choice." -- Locust Hill, Virginia
"ADT Honeywell Lync system with door and window and motion detectors. $99.00 installation and $35.99 a month." -- Gloucester, Virginia
"We got our system installed for $99. We are totally safe now; motion detectors, window sensors, 24 hr a day monitoring, FOB, and best of all, no credit check. ADT was professional without being pushy." -- Charlotte, North Carolina
"ADT System with wireless component, glass break sensor, and dual keypads, $599." -- Overland Park, Kansas
"Frontpoint system cost $169.00 for the upgraded complete package, all windows and motion detections. 3 year contract term (all offered 3 year) at $39.99." -- Harpers Ferry, West Virginia
"Broadview offered to wave the $99.00 installation fee, three year contract at $26.00 a month with warranty, and hard wire the house free of charge. They also gave me extras at only $37.50 and a second security pad free of charge." -- Ocala, Florida
"$29.95 per month from Protect America. 1 motion detector & 3 door monitors." -- East Palo Alto, California
"I paid only shipping and received 3 years of monitoring at $30/month. I have ordered additional equipment. So far I think Protect America seems to be quite good." -- Wilmington, Delaware
"$24.99 a month for the monitoring. Free installation and DSC security equipment to keep. 2 remotes, 3 door contacts, keypad, backup battery, motion detector, fire, medical, police, lifetime warranty, siren, sign and decals. 3 year contract. If you move they will install another." -- Austin, Texas
"Contract for $39/month, $30.95/month monitoring fee, DSC security wireless keypad, 32 zone capability which includes backup power, 12 wireless door and window opening transmitters, 1 pet-immune motion detector, 1 key FOB, 2 yard signs and window stickers for every door/window, free installation, free equipment, lifetime warranty and battery replacement." -- New Port Richey, Florida
Home security services with additional purchases
"We will pay $32 per month for monitoring, which includes intruder and fire monitoring. We received installation and equipment for all our doors and a motion detector for free. We will pay about $530 for the equipment and installation of three heat detectors and three window intrusion detectors." -- Shawnee Mission, Kansas
"$769 - Hard wired system with some wireless coding. Four motion sensors, two key pads, two key fobs, inside and outside sirens, battery back up and wireless back up if phone goes out." -- Harrison, Ohio
"2 wireless glass break sensors - $128. 2 Smoke detectors - $156. 2 free remote keys, 1 control panel, 1 key pad, 1 power supply, 1 telephone jack, 1 DSL filter, 1 backup battery, 3 door contacts, 1 yard sign, 16 window decals. Total = $284." -- Garland, Texas
"$1,409. Keypad with monitoring, control panel & wireless receiver (2), battery backup & transformer, door contacts, interior siren, yard sign & window decals, lifetime equipment warranty, no false alarm guarantee, 24 hr. service policy, anti-phone tamper, window contacts, additional door, smoke detector, key fob remotes, outdoor motion detector (2), roll-up garage door contact, additional door contact, Vista 20 upgrade for partitioned system." -- Trinity, North Carolina
"$300: base package (three door sensors, motion sensor, keypad, siren) plus two window sensors and a smoke detector relay (tie into existing hard-wired smoke detectors). Also, $24.95/month for monitoring and extended service." -- Cuyahoga Falls, Ohio
"$1,000 for wireless system, additional keypad, key fob, and window contacts in three rooms. Vendor allowed equipment to be paid over 3 month period. $89.85/quarterly includes warranty on equipment." -- Boston, Massachusetts
"We paid $783 for 1 voice keypad and 1 regular keypad, 2 motion detectors, 5 door contacts, 2 smoke detectors, a control panel and an interior siren." -- Crozet, Virginia
Want more information on choosing a home security service? Read our Home Security Buyer's Guide. To review in-depth home security company profiles, use our instant provider comparison service.
Information was provided by BuyerZone.com users. Quotes have been edited for clarity only.
Ready to Compare Home Security Systems Price Quotes?