Wireless Home Security Systems Can Be Matched to Your Needs
If you're interested in purchasing a monitored burglar alarm to protect your home and family, consider a wireless home security system. If your home isn't already pre-wired for an alarm, a wireless alarm system saves you the hassle of breaking through walls or tearing up carpets to install the system.
When they detect an intrusion or other danger, wireless home security systems sound an alarm and transmit a message to a monitoring agency. If you're home, the alarm can alert you, as well as scare away potential burglars and alert neighbors. Some systems include advanced sensors and controls, and a monitoring service can call the fire department or the police. The key is to decide which features you need.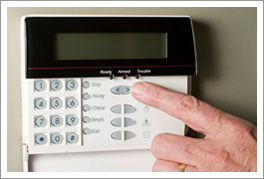 Wireless home security systems provide all the protection of a wired system without having to disrupt your home.
Basic Functions
A wireless home security system uses window and door contacts and motion sensors that run on radio wave frequencies. Self-illuminated keypads at your front and back doors allow you to deactivate your alarm with passcodes you select. These devices communicate with the control panel, the brains of the system.
Wireless sensors that detect fire, smoke, and intruders are included in all wireless home security systems. A comprehensive system should have smoke detectors on each floor of the residence, perimeter security with sensors on doors and windows, and intruder detection with motion sensors in key locations.
If the alarm is set off, a monitoring station confirms if it was intentional and sends authorities to the scene. And if your power goes out, a backup system kicks in to make sure you maintain 24/7 protection.
Installation
There are many out of the box wireless home security system kits you can buy and set up, but it's best to get an alarm installed by a professional dealer that knows where sensors and contacts should go. Unlike a hard-wired system that runs on electricity, the control panel of a wireless security system runs on a lithium battery that needs to be tested often to ensure they work at full strength.
A wireless system is also portable so you can easily take the system with you if you move.
Extra sensors
In addition to the sensors required for the basic functions, the latest model alarm systems offer a wide variety of additional ways to alert you to dangerous conditions. Sensors for carbon monoxide and radon detect high levels of these gases. Noise sensors detect breaking glass or other noises caused by intruders. Sensors that alert you to sump pump failure or water in your basement can help limit damage to your home.
Check whether additional sensors are available and decide if they fill a need for your residence.
Additional Functions
New wireless home security systems can offer many extras, such as cameras, email alerts, and tape recordings of events. Monitoring can be done with a traditional phone line, but newer systems may incorporate the more secure cellular monitoring, which places alarm calls on the cell phone system.
A system with a camera allows you to check non-emergency events such as mail delivery, or the time your dog-walker arrives. Doing your research before deciding what sensors, functions, and features you want will get you an alarm system that satisfies your needs.
Ready to Compare Home Security Systems Price Quotes?