Beyond the Deadbolt Lock
According to the FBI, a robbery occurs in the US every 14.6 seconds. 73.9% of burglaries occur on residential properties. Right about now, you may be asking yourself if you have done enough to protect your belongings and your family from this threat.
At the very least, most homeowners take rudimentary security precautions, like installing a deadbolt. But is a deadbolt really enough to guard your home against theft? Learning more about basic home security features can help you make an educated decision in choosing the right alarm system to protect your humble abode.
What is a deadbolt lock?
Deadbolt locks are a special kind of security lock that cannot be moved to the open position unless you turn the cylinder at the same time. This is very different to a standard lock, which uses a spring to hold the bolt in place. A standard lock can be opened without a key by applying some force to the bolt, while a deadbolt must have the corresponding key to go with it as well.
There are a few types of locks with this mechanism, but the main difference is the amount of cylinders:
A single cylinder deadbolt lock has a keyhole on one side and a turnable knob on the other.
A double cylinder deadbolt lock can accept keys on both sides and does not have a twist knob. This is best used in a location where there is other nearby access, such as a window.
A vertical deadbolt lock is another type that was developed to counter the trick known as "jimmying." A burglar can force the door by using a crowbar between the door and the jamb and pry the bolt out of the door.
There are other types as well, including exit only locks (one way doors), push button locks (which can be mechanical or electrical), and deadbolt locks with removable thumb-turn devices.
Take it to the next level in home security
Integrating a deadbolt lock into your home security system these days is very common and a good solution for any home. Locks can be controlled remotely using electrical cables or a wireless system. Some even have computer chips in them, which will use audible and visual cues to indicate if the door is locked or unlocked. There are also electronic laser devices that can guide your key to the slot if you arrive in the dark. Locking and unlocking can be controlled by a small key fob device or by remote technology at a control panel inside the house.
The door that the deadlock is in can also be fitted out with alarms, motion detectors, and sensors that can all be integrated into the security network. Security cameras can be trained on the door. There are also systems that can alert you when you are on vacation or a business trip that your security has been tampered with. You can then connect to a monitoring website over the Internet and call the police if necessary.
Since a deadbolt is a stationary, manual security feature, it is easy to upgrade into a complete home security system. A standard home alarm system should include basic components like: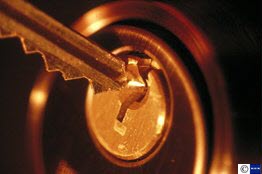 Control panel
Keypad
Alarm siren
Indoor/outdoor motion detector
Door/window contact alarms
Central monitoring station
Even better, a simple home security system can be connected to a number of in-home devices that improve overall safety, like:
Smoke detectors
Panic buttons
Glass break detectors
Foot pressure mats
CCTV monitors
Window screens
A deadbolt is the first step in home security, though it might not be effective on its own. If you purchased a deadbolt for your home from a hardware store, it may not be well-equipped enough to withstand a forced entry crime.
When you couple a deadbolt with the many home security features listed above, you can rest easy at night. A fully integrated home alarm system can alert you of any type of danger, whether it is smoke from a fire, a broken window, or even a window screen that has been cut before a break-in.
Home security cost and installation
One of the best ways to evaluate how much it would cost you to secure your home is to consult with your local police department's crime prevention officer. In many places they will do an evaluation of your current home security and suggest improvements as well as give you a list of security companies who are trusted. You can usually ask for a free evaluation and quote from several security companies in addition to this.
While installing simple deadlocks will not cost you too much, ranging from $55-$125 for new deadbolt installation, once-costly security alarm installation has become much more affordable. A complete security system with all the bells and whistles that was once priced at $3,000 or more now costs as little as $1500 for installation with a $50 monthly fee. This may include wireless camera installation, wireless motion sensor alarms, wireless thermostat controls, and other remote control devices to provide the latest in home security technology.
As a final consideration: If you run a home business or if you have homeowner's insurance, you can often lower your insurance costs and write off security installation fees as tax expenses. In the long run, it's always better to invest in stricter security as - in this case - you may get back more on your insurance if you are burgled. It's hard to qualify for insurance if your security solution was not effective enough, according to the insurance company's rating categories.
Ready to Compare Home Security Systems Price Quotes?