ADT Home Security and ADT Pulse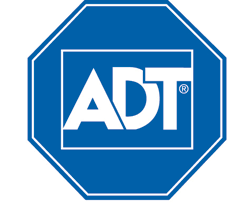 ADT is the largest provider of professionally installed and monitored security and smart home and business management in North America. With six company owned-and-operated redundant monitoring centers, ADT provides professional monitoring 24 hours a day, 7 days a week and 365 days a year. With a broad portfolio of products and services--from interactive home and business solutions to health monitoring services--ADT has a solution to fit the needs of today's active and increasingly mobile lifestyles.
The ADT difference is in the service. ADT professionally monitored features available:
Critical Conditions. Sensors detect extreme changes in temperature and can help prevent bursting pipes and other low-temperature home damage.
Burglary. Known for industry leading fast-response monitoring, in the event of a break-in, ADT calls you and notifies the authorities.
Flood. Water detection sensors help protect the home from potential water damage in the case of flooding. Once an alert is received, a trained ADT professional notifies you immediately.
Carbon Monoxide. Carbon monoxide (CO) can be impossible to detect without a warning device.
Medical Alert. With a push of a button, ADT will contact the appropriate emergency response services and communicate with the person requiring assistance through a two-way voice intercom.
Fire and Smoke. When an alarm from a fire or smoke detector is received, ADT will notify you and your local fire department immediately.
The features of the ADT Pulse Video Service Level provide secure real-time video that is easy to use, convenient, and reliable.
Secure Real-time Video. See inside or outside the home in real-time on any web enabled device such as a computer, Smartphone or tablet. Triggered by motion detection, a recording of up to 30 seconds is saved for 30 days on the ADT system for customer review.
Wireless Security. The wireless systems are easy to install and use, can be expanded to fit customer needs and can be moved around the home easily.
Storm Safety. In addition to the monitoring events triggered by weather, customers can ensure the safety of their home through the Cellular Backup or Power Backup options.
Remote Access. Customers can get the peace of mind that their home is secure by checking in on the many remote access selections: online portal, mobile access, home controls, remote video, customized alerts and email notifications.
Energy Management. Manage the family comfort and energy consumption through the online portal, thermostat control, appliance control, lighting control and even a door lock control.
Medical Alert. ADT helps family members maintain a happy, healthy and independent lifestyle. Waterproof wristbands or pendants work up to 300 feet from the home, are always charged, frequently tested and monitored 24/7 by trained professionals.
ADT Home Security also offers ADT Pulse, a remote option for the tablet or smartphone. Customers can arm or disarm, adjust thermostats, and receive alerts and custom notifications. The customer is in complete charge of their home even when he or she is not there.
Ready to Compare Home Security Systems Price Quotes?