Elderly Alarms Improve Home Security and Safety
A variety of personal alarm systems can be used by the elderly to monitor health and assist with any medical situations. If you are suffering from some sort of a condition that might require immediate medical attention, and you can't get to a phone to dial 911, then you may want to consider getting a medical alert alarm built into your home security system.
These alarms can call emergency services, your nurse, or your doctor, even if you only have a few seconds to react. Seniors or others with a history of heart attack, seizure, or stroke may benefit from this life-saving security feature.
What is a senior medical alarm?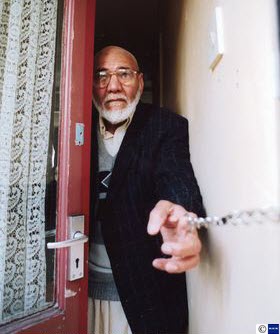 A personal alarm is usually composed of two devices:
Base unit attached by a cable to your telephone.
2-way loud speaker that lets you talk to emergency services.
The second part of the device is a pendant that you can hang around your neck which has a button on it. This is pushed to activate the base unit.
A senior medical alarm may be used for:
24/7 safety monitoring
Emergency medical calls
GPS tracking for seniors with dementia
Medication reminders
Fire, carbon monoxide, and security monitoring
Calling friends and family members
A medical alert alarm or personal emergency response system equipped with a senior medical alarm will allow a senior to live independently and without worry. A monitoring device can be used in an emergency to provide an immediate response with the click of a button. A senior medical alarm may also offer additional alerting features for fall detection and daily medication reminders.
Yes, depending on the company you sign your alarm contract with, a variety of services can be provided and monitored. Not all calls have to be emergency calls in this case. Pressing the button can connect you with another family member, friends, neighbors, police, fire, and even an ambulance directly.
When you push the button, you will be able to speak directly to the operator. If you are outside or cannot get to the speaker phone, the operator will usually attempt to call back, and if this fails, they will contact emergency services directly to provide help within minutes.
One piece of the puzzle in complete home security
Your senior alarm can be connected to your home security network in a variety of ways. If you are living in an elderly home or in a village, then an alarm can sound, alerting neighbors and any staff available. Additionally, security cameras can be placed in your dwelling that let emergency staff monitor what is happening, if necessary. Backup generators and batteries can also be connected to assure that electricity is always available, no matter what the medical emergency may be.
A senior medical alarm is best used within a complete home security system that also offers fire and burglar protection. A home security monitoring company may sell a 3-in-1 system that includes:
Burglar protection
Fire detection
Medical assistance
In the event of a break-in, a senior can activate a panic button to trigger a monitored alarm system immediately. The same home security system can be used for fire, carbon monoxide, and smoke detection to provide automatic alerts to the fire department in the case of danger. As outlined above, a home alarm system can also be used for 24/7 medical monitoring to save the life of a senior with a health emergency.
Most panic buttons within a senior alarm system will be waterproof so that they can be worn easily in the shower or bath. A senior can wear a bracelet or necklace help button day and night for one-touch communication that will protect against any type of danger.
Senior monitoring features and extras
Beyond the scope of a traditional medical alert button, senior monitoring may be available as:
User-initiated alerts. A variety of user-initiated senior alerts can take place, and they do not always constitute medical emergencies. For instance, if you have a live-in nurse and you have difficulties with mobility, then you will need to use the button to request help when you need it.


Automatic monitoring. There are a number of automatic monitoring devices that can be used to monitor your health remotely, but these are mostly quite expensive and would only be used if you were on a private health insurance plan paying costly premiums, or if you were taking part in some sort of a medical observational study. A variety of medical data can be monitored such as blood pressure, hearth health, body temperature, as well as temperatures of various locations around the dwelling.
Senior alarm cost and installation
Installing the base unit and the panic button is usually not that costly. If you choose to use an emergency response service, then you will need to sign and pay a regular contract. If you just install an alarm system, then there is no extra cost associated, but you also do not have the ability to contact emergency services at will. In this case, the second option is better for a hospital, elderly care home, or village setting.
Popular senior alarm providers like LifeStation quote service prices at less than $1 per day; this service package is estimated at $25.95 per month with free shipping for a medical alert button. However, LifeStation is a limited medical alarm system that does not include burglary or fire detection.
A Bay Alarm Medical package that offers 24/7 medical monitoring, as well as fire, smoke, and carbon dioxide detection, may start at $39.95 with free equipment and free shipping. Phillips Lifeline senior monitoring may be available as an upgrade with a Phillips home security system; activation fees start at $51.95 with zero equipment costs.
Ready to Compare Home Security Systems Price Quotes?