What Hawk Security Can Do to Keep Your Home or Business Safe
Instead of letting the risk of intruders, burglars, or fires shatter your peace of mind, consider the full suite of security services offered by award-winning Hawk Security. The company serves small businesses, large businesses, commercial properties, and private homes, while specializing in providing the help you need to keep your domain safe.
Hawk prides itself on being "full service." In other words, the company designs, sells, installs, monitors, and services its products for customers. Hawk also has 21 branch locations around the United States, which makes it the 11th-largest such company in America with more than 100,000 customers.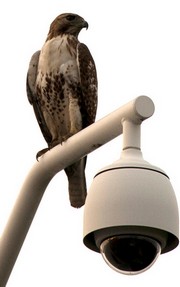 Certifications and awards
Hawk has taken home a number of awards, and belongs to several business and industry-specific associations, including:
Honeywell Security Residential "Installation of the Year" Award
Security Distributing and Marketing's "Dealer of the Year" Award
Three-time winner of the Inc. 500 "Fastest Growing Companies" Award
Member of Honeywell Security Products
National Burglar & Fire Alarm Association member
Better Business Bureau member
Customer opinions
Hawk Security gets an A+ rating on the Better Business Bureau website. According to the BBB, there are no issues with the company with regard to government actions or advertising.This longstanding company has a reputation for good customer service, with issues complaints resolved quickly.
Many of the complaints found online about this security firm stem from customers who did not understand or read the terms of their contract in advance. Interface/Hawk Security has lengthy contracts (three to five years) which renew automatically; this is a useful feature for locations that are not planning to change too often, but as with any contract, make sure you understand all the terms before you sign anything.
What sets Hawk Security apart?
Hawk never relies on automated phone attendants. When you call in, you get live operators 24 hours a day, 7 days a week, and 365 days a year. Other advantages of choosing Hawk as your security service include:
Secure broadband
Burglary and intrusion detection
Video surveillance
Managed IP networked applications
Voice-link two-way audio alarm verification
Latest technology access control systems, such as smart cards and bio-metrics for building access
Video verification of alarm events
Asset tracking
Loss prevention
Fire alarm and life safety
Email- and web-access features
Internet-based alarm monitoring
Alarm processors with backup servers
Uninterrupted power supply through 600kw diesel generators
Alternatives to standard telephone lines that use fiber-optic cables and digital voice applications
Internet-managed building access control
Tamper-proof, waterproof, reusable, non-allergenic infant tracking tags, worn as bracelets or anklets
When asking for a price quote
Carefully review available services and discuss your unique security needs with one of Hawk Security's sales consultants. Make sure you understand all the terms of your contract before you sign anything. Finally, make sure you have a written list of all the fees, including cancellation fees, installation fees, security transfer fees, and temporary disconnection fees.
Ready to Compare Home Security Systems Price Quotes?