A Home Safety Checklist to Make Your Security Plan Complete
Any sound home security plan involves an alarm and monitoring from a reputable company. However, if you want to guarantee the personal safety of everyone at home, there are measures to consider that don't require advanced technology. Security also involves things like keeping children protected from electrical sockets and chemicals. This home safety checklist will help you round out your security plan.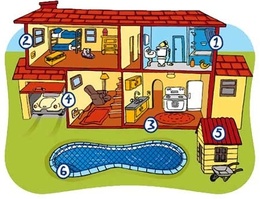 Be able to respond to fires. Smoke detectors are an essential part of any home safety checklist. Make sure you have them installed on every floor, ideally placed just outside of bedrooms. To respond immediately to emergencies, have fire extinguishers located outside the kitchen, near bedrooms and in the basement. The moments after a fire breaks out are crucial. Review evacuation routes in case of a fire and run drills with everyone living inside your home. Remember that most home fires are a result of cooking accidents, and many accidents can be avoided. You may also want to learn about home security monitoring systems and how you can keep your home safe from fire, even while away.
Get smart about water heaters. Children can face serious burns when coming into contact with a water heater. To save energy and remove this risk, keep waters heaters under 120 degrees. Talk to your home security system provider as some home automation systems can integrate with water heaters, sump pumps, and more.
Beware of toxic chemicals and gases. Closets and cabinets in the kitchen are often filled with both edible and toxic cleaning products. Make sure your child doesn't have access to anything that can harm him or her. The same goes for pets who might look around places where dog and cat foods are kept. Additionally, carbon monoxide, while virtually undetectable by humans, can be a real threat. Consider integrating a carbon monoxide detector with your security system.
Protect bulkheads, windows, and other entry points. A home security system is only effective when all entry points are secured. Many homeowners will install a basic security system with door alarms on their front and back doors, and ignore common forced entry points like garage doors, bulkheads, and basement windows. Wireless door and window alarms are affordable add-ons to ensure complete security.
Consider securing sheds and outbuildings. As wireless technology advances, it also becomes cheaper. Many homeowners are now realizing they can afford to secure their lawn mowers, tools, and more with a simple-to-install wireless alarm system on their backyard shed. Most times these add-on systems can integrate into the main home's security system too. Be sure to ask your representative about your options.
Ready to Compare Home Security Systems Price Quotes?