How Motion Detectors Improve Your Home Security
Homeowners looking for peace of mind can upgrade their security system with a motion detector. A built-in motion detector within a home security system will automatically alert of an intruder by switching on a light when movement is detected. The motion detector light will continue to stay on as long as it senses movement. Once all is clear, the light will turn off automatically after a set time.
Types of motion detectors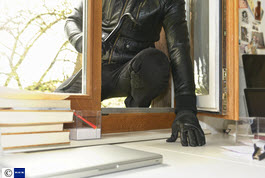 There are countless motion detectors on the market. The most common are:
Passive infrared sensors. Look for body heat but do not emit energy from the sensor.
Ultrasonic motion sensors. Work like sonar by sending out sound waves and reflecting back changes in movement.
Microwave devices. Send out pulses of microwaves and work similar to a police radar gun by sending back information to the unit.
Tomographic detectors. Work by sending out radio waves.
Combination devices also exist, which incorporate more than one of these technologies so that false alarm instances are reduced.
How do motion detectors protect the home?
A motion detecting device can be integrated into an existing home security system. They can be fitted outside to keep intruders away from the house, but in this case you may end up with many false alarms as animals and guests can trigger them.
These devices are most often placed inside homes, facing towards an entryway or having a field of vision that covers one or more rooms. Anything that moves within this field will trigger the alarm or another function that the unit can perform.
A motion detector can provide home security benefits like:
Sense unwanted motion in a home or on a property
Immediately alert when motion is detected
Allow for "pet immunity" to overlook pets up to a certain weight limit
Provide exterior light when returning home at night
Control lighting when out of town
The functions and features of motion detectors
With a home security system, a motion detector is designed to:
Turn on lights. This is very useful for paths leading up to front doors, or paths leading out to sheds or other side-buildings. This is more of a safety device than a security one, although it can act as a good deterrent for intruders as well.


Raise alarms.Anything that approaches in the field of vision will trigger the motion detector alarm. If pointed towards a door, the motion detector will sense when the door is opened and after a short period of time (usually about 5-10 seconds depending on the user setting) will set off the alarm. An authorized user can disable the alarm in the meantime with a code word on a security panel.


Call security company.These are extremely useful for when you are out or on vacation; if the security code is not sent to the security company then they will immediately alert the police. The units can do this silently or in tandem with an alarm or lights as well.
Today's motion sensor technologies for indoor and outdoor use have improved considerably:
Small motion sensor alarms can be activated with a remote to offer a 45 second entry delay or 30 second exit delay when returning or leaving home.


Wireless motion detectors offer motion-activated light sensors with audible alerts at increasing ranges of up to 70 feet with 180° detection.


Homeowners that are worried about constant, annoying false alarms can utilize adjustable sensitivity features to control how much motion an alarm detects.
Choose the best device for different situations: Avoid false alarms
Which motion detector you choose will depend on what you need it for. Those that handle lights can be used outside the house for safety purposes. They can also be used to provide lighting when needed and conserve power when not. In some neighborhoods, a motion detection device that triggers a light is often enough to alert the neighbors to potential intruders.
Nonetheless, light-activating devices can turn up a lot of false positives, especially if used outside. Cats and dogs can trigger them, as can some other curious animals such as deer or raccoons. In this case, a pet-sensitive motion detector is preferred that will provide a "sensing buffer" for animals up to 40 or 80 pounds, depending on the system.
Or, it might be better to consider a motion detecting device that raises alarms or calls a security company inside your house. The best place to put them is facing a doorway where they can get a large field of vision that covers the whole room or at a central part of the house where intruders must cross if they are already inside.
False motion alarms are a major concern for homeowners, and rightly so. If you don't want to deal with complaints from neighbors or waking at all hours because of a false positive trigger, it's critical to shop carefully for a motion detector based on features. A pet-friendly sensor can avert triggers from small animals, static, and other ambient factors. You can also consider a motion sensor with an adjustable distance range or sensitivity to prevent unnecessary alarm trips in the middle of the night.
Ready to Compare Home Security Systems Price Quotes?