Motion Sensor Lights Keep Your Home Protected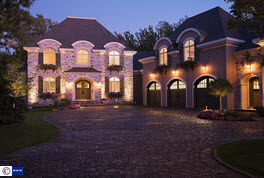 Motion sensor lights are designed for things that go bump in the night. Motion detectors use a photosensitive device to track any movements in a secure area. If installed in a home security system, they can be turned on at night or while a house is unoccupied.
5 types and styles of motion sensor lights
Motion detector lights are a common feature in many homes and businesses and function in several different ways. The 5 most prevalent types of motion sensor technologies are:
Active infrared. Also known as an IR sensor; used to detect radiation interruptions from the heat energy of an intruder.
Passive infrared. Also known as a PIR sensor; one of the most popular motion detector styles used to detect disturbances in ambient infrared radiation.
Continuous wave radar. Also known as a CW sensor; uses microwave signals to detect frequency changes in a set area.
Ultrasonic. Uses sound energy to detect motion in a set area.
Vibration. Uses basic vibrations to detect motion in a set area.
Integration into the home security network
There are two standard security integration options for a motion detector:
Wire motion sensor lights into a burglar alarm. This can be a device that activates a local siren, or it can also alert a security firm who will contact the police. The latter is useful for a home that you intend to leave for extended periods of time.


Wire motion sensor lights into the rest of the security system. They can be coupled with security cameras, as well as door and window-locking devices, intrusion detectors that can tell if a window is broken, and an intercom system.
Most modern security systems can be connected by a variety of ways to your computer network:
USB cables, Ethernet cables, and even wireless modems can be used to transmit information from your various devices to the mainframe.
Video cameras can transmit surveillance to be recorded or to be played live for an operator.
Motion detectors can send information such as heat signatures, ultrasound, or sonar imaging.
If you have an alarm installed in an area that does not have a landline, then you can also set it to automatically email for a security check. Pick software that runs on your operating system, whether it's Windows, Mac or Linux. Even better, the technology is increasingly becoming available that will let you monitor your home's security from your smart phone. Also, you can control temperature and see if your power has gone out.
The security provided by remote security monitoring is useful for those who are not at home. If you are at work or on vacation, it's possible to check up on your home over an Internet connection. This requires an elaborate setup that needs to be installed by a professional security company, but it can give you peace of mind while you are on vacation or a business trip, and if you do notice anything out of the ordinary you can contact the security firm yourself to investigate.
It often pays to have backup power available if your motion sensors are electrical. If the electrical grid is taken out in your home then the device becomes ineffective, but if it has an emergency generator or a battery attached to it, then it can keep functioning.
How to set up a motion detector
A simple security light device is not too expensive, can be purchased along with an alarm and installed without professional help. The only drawback to this is that there is no automatic police notification in case of a break-in.
This solution might only cost you $50 at a hardware store. Lowe's provides tips for motion detector installation in several easy steps:
Turn off the main power circuit at the breaker box.
Remove old light fixture, if applicable.
Match fixture cover plate screw holes to junction box screw holes and knock-out screw holes.
Seal extra screw hole openings with caulk.
Thread wires through cover plate gasket and connect house supply wires black-to-black and white-to-white; no ground wire is necessary.
Attach ground wires from the house to the junction box.
Screw light fixture to junction box.
Screw in motion detector light bulbs.
If you want live monitoring and protection, your best bet is to hire a professional security firm to install the device for you. You can often get a quote from a variety of reliable companies and shop around a bit. This can cost from $100-$1500, as well as a monthly fee of $8-$40, depending on the home security system and monitoring package you choose. However, it is the only decent solution if you intend to leave your house for extended periods of time.
Monitoring the security of your property yourself is the cheaper option, but it is also not as secure as you might think. Many burglars are adept at telling the difference between security firm-installed and self-installed equipment if they can see it. Consider that burglars often scout out residential areas where they perceive good profits, so even if you only leave for a few hours you may need to have vigilant neighbors or get a house sitter if you're going with the DIY solution.
Ready to Compare Home Security Systems Price Quotes?