Window Alarms are a Critical Feature in a Home Security System
A window alarm is designed to secure an entry point against a forced invasion. In the US, a burglary takes place every 14.6 seconds. Most homeowners are surprised to find that 62.4% of home invasions occur in broad daylight, during regular working hours between 8 AM and 6 PM.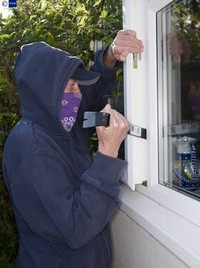 Even if you have a basic home security system, it may be worthwhile to explore additional security features - like window alarms that can offer extra protection at vulnerable points throughout your residence. Most home security providers offer window alarm upgrades within a system that may already include smoke and heat detectors, carbon monoxide detectors, motion detectors, glass break detectors, flood detectors, strobe sirens, and more.
Types of window alarms
There are several types of window alarms. Most of these devices can also be used on doors and other entry-points to your residence:
Window handle alarm. This unit is attached to the window, the glass or the handle and emits a small magnetic field that if disrupted, will trigger the alarm. They can usually be armed remotely as they work wirelessly using the central system in the house.


Door/window stopper alarm. This works on the principle that if the door or the window is pushed inwards, then it will trigger the alarm.


Glass break alarm. A glass break window detector will sense the high-frequency pitch that glass emits when broken to sound an alarm.
These alarms can be placed on many windows around the house; for accuracy, glass break alarms are best installed opposite or adjacent to window glass. On large glass sliding doors, the magnetic field or glass break alarm is most useful since you can't be sure where an intruder will attempt entry. On smaller windows or skylights that a burglar could climb through, it might be better to get a magnetic field alarm.
Window alarms can be integrated into your home security system. They can be rigged up to the main power in the house and also to backup generators or batteries. They can also be connected to a network connection or function wirelessly allowing remote surveillance cameras, central control of the alarms, as well as remote arming/disarming.
Window alarm installation costs
For window alarms that you want to integrate into the rest of your home security system, you can contact your security provider for an accurate quote. If you are upgrading from an existing alarm system with the same provider, accompanying fees may be minimal.
If you are purchasing a security package for the first time, basic service that includes door and window alarms may start at $99 for installation with a $36.99 monthly fee. Higher-level service packages that include door and window sensors, as well as motion sensors and wireless cellular support, may start at $199 for installation with a $44.99 monthly fee.
Make sure you only use a trusted security company that is registered with your local, state or federal government. Search on the Better Business Bureau website to see if there is any information about the companies in your area. When you are consulting with firms, you can always ask for a free survey and a written, no-obligation quote on price.
Advantages and disadvantages of window alarm integration
If you're trying to cut costs on home security, you may consider DIY window alarm installation. While a small window sensor can cost less than $20, it doesn't provide the protection of third-party surveillance, unless you sign up for a monthly security package.
There are many advantages to integrating window alarms into an entire home security network:
Allow control from a centralized location
Make it much easier to manage and monitor all aspects of home security
Monitor all devices from a central bank of screens
Utilize other security features in a monthly package, i.e. door and motion sensors
Ensure proper, professional installation
The main disadvantage of integrating your window alarm into the home security system is that if an intruder manages to knock out the power or cut cables, then you can lose important frontline defenses in your security network. There are solutions to this though, such as wireless connections to combat cables being cut or alternate power sources, such as generators and batteries, to make sure that there is still security in case power is cut. If the telephone line is compromised, then cell phones can be used to circumvent this.
To prevent any security breaches that could endanger your family or your property, consider a wireless security package with door and window alarms to cover your bases. As mentioned above, a cellular security package is a recommended monitoring method that doesn't require a telephone line. It relies on a cellular/GSM system to provide continuous security support, even if landlines are cut.
Ready to Compare Home Security Systems Price Quotes?