What Sets a Portable Hot Tub Apart
It seems like just about everything is mobile these days, and hot tubs are no exception. A portable hot tub is just like it sounds: a mobile unit that can be taken down, transported, and re-established in a matter of minutes, giving you the ultimate flexibility in where you use your spa.
What are the benefits of a portable spa?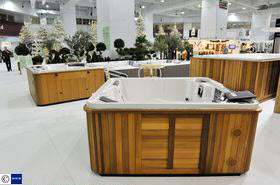 Beyond the many health benefits provided by a hot tub to ease tension, promote better sleep, and soothe arthritis, a portable spa can be advantageous in several settings:
For businesses
If you own a business, a deluxe portable spa might be just the amenity you've been looking for. Designed to move from place to place with ease, this product can provide you and your employees with hours of enjoyment. For example, many businesses take company trips and retreats to reward their staff members and having a mobile spa will only add to the experience.
You also can use this type of product at your office building. After the business day or during breaks, employees might need to relax and decompress from long hours in front of their computers or in the field. A deluxe portable spa will make your business more attractive to the best and brightest employees. Or you may want to use it as part of your business - hotels or B&Bs, for example, can offer a soak as a luxury service to guests.
For the home
These days, many of us just can't sit still. We're always on the move, visiting friends and seeing the world, so why wouldn't you want a portable hot tub spa? Rather than setting up a permanent hot tub on your back patio, you can take your mobile spa wherever you go. Lend it out to friends, take it on vacation, or rearrange your backyard every once in a while.
A portable spa can be used at home for socializing and relaxation when you simply don't have the room for a stationary hot tub to support up to 10 people. On top of that, a traditional hot tub requires complex and often expensive wiring and installation to meet strict electrical requirements for safety purposes. If you don't have $3000 or more to blow, a portable tub priced at $600-$1600 may be easier on the wallet.
What makes a portable hot tub stand out?
If you are comparing a portable spa to a traditional hot tub, there are several key differences to remember:
Cost. As outlined above, a portable hot tub may be less than half the price of a traditional spa. With a portable hot tub, you will also avoid costly installation and permit fees, as well as technician labor rates that may start at $85 per hour.


Look. Depending on the model you buy, a portable hot tub can compare to a stationary spa when it comes to look and feel. You will get what you pay for. Keep in mind that cheaper portable models may appear flimsy next to a high-end portable spa built with a durable frame and micro air jets.


Transportation. The main attraction of a portable spa is its mobility. A transportable hot tub can be used indoors or outdoors; even more expensive units with electrical wiring and plumbing built for larger groups can still be moved when proper precautions are taken in advance. Basic transportation will require you to drain, deflate, move, inflate, and refill the tub.


Limitations. Since you're working with a mobile instead of a stationary model, a portable hot tub may not stand the test of time. Depending on how often it's used, a portable spa may need to be replaced far earlier than an in-ground spa. A portable hot tub may also provide less heat since it functions with lower electrical requirements, i.e. a 120 V outlet; this may be a major concern if you're looking for an extra-hot tub for therapy purposes.


Features. Because a portable spa is designed for convenience as a top priority, it may not include all the bells and whistles of a stationary spa. If you're looking for features like high-powered jets, interior lighting, and cool-down seating, a luxury in-ground tub is recommended.
What to consider when choosing a portable hot tub spa
You have more options than you might think when it comes to buying a portable hot tub spa. Like other products, these come with different options: seating, jets, materials, water capacity and temperature control. For this reason, make sure you do your homework before writing a check.
Some of these products are made from inflatable material, while others are constructed primarily from foam. The danger here, of course, is accidental punctures that might render your spa unusable, so make sure you choose the most durable product you can find. You'll also want to buy a hot tub that comes with a circuit protector and uses the least amount of electricity possible.
Buying a portable hot tub spa might be a great step forward in your comfort and relaxation, and you won't feel confined to a specific area of your home, either. Just make sure to follow the instructions carefully and use it only as directed. Most require a flat surface, access to electricity and water, and above-freezing temperatures to operate.
Ready to Compare Hot Tubs Price Quotes?