Jacuzzi® Hot Tubs Prices

As a leader in the hot tub industry, Jacuzzi® hot tub prices are usually at the higher end of the hot tub price spectrum. People opt to pay more for a Jacuzzi® tub because of the brand's excellent service record, durability, modern design, and a wealth of top of the line spa features. But whether you're looking for a space-saving small hot tub or a 6 person luxury spa with cascading waterfalls and light therapy, there is a Jacuzzi® hot tub for every budget.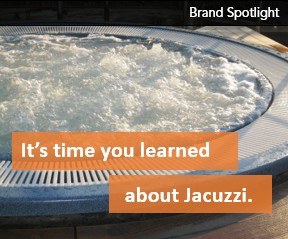 The Jacuzzi® hot tub is the original hot tub, invented by a family of Italian immigrants who came to America in the early 1900s. Contrary to pop culture images of cocktails and bikinis, the Jacuzzi® hot tub actually has its roots in hydrotherapy. The Jacuzzi® brothers invented the hot tub as a means to assist the arthritic symptoms of Candido Jacuzzi's son. What started out as a hydraulic pump sold in drug stores in the 1950s quickly grew to become a consumer product empire with the most recognizable name in the industry.
Jacuzzi® hot tubs of today's era continue to provide hydrotherapy as well as reflexology, aromatherapy, and chromatherapy. On a day-to-day basis, Jacuzzi® hot tubs provide natural relief for aches, pains, and chronic pain, as well as increasing blood flow to stiff joints and muscles for freer movement. And for weekends or get-togethers at any time of the year, a Jacuzzi® tub can be the focus of a night of fun with friends.
Ready to Compare Hot Tubs Price Quotes?