Japanese-Style Wooden Hot Tubs Provide Rejuvenation
With today's design aesthetic for natural materials, it is no surprise that many people are showing interest in wooden hot tubs. These are spas constructed from high-quality, sturdy wood, designed to be attractive in a natural sort of way.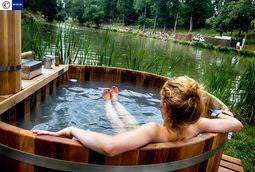 In Japan, wooden bath tubs (or "ofuro" tubs) have been used for centuries. Although they differ from the modern version of wooden hot tubs, they have many of the same benefits. An ofuro refers to a private Japanese soaking tub that is much smaller than modern hot tubs and traditionally does not have jetted water. Instead, it is a deep wooden tub that allows the person to submerge him- or herself in hot water and soak, while inhaling the aroma of the wood coming up in the steam.
Modern wooden hot tubs can give a similar experience, equipped with other luxuries that Westerners have come to enjoy.
Ofuro versus modern hot tubs
What both the ofuro and the modern hot tub have in common is a wonderful way to relax and unwind. While Japanese culture considers soaking almost ritualistic, as a time for self-reflection and harmony, Westerners are more likely to enjoy a soak in a wooden hot tub at face value. The traditional ofuro would be a deep rectangular tub, usually above ground, that is filled with hot water, generally for one person. Modern wooden hot tubs are also often above ground, yet have newer features such as:
Jetted water
Larger, two-to-four person sizes
Filtered, recirculated water
Why choose a wooden hot tub
In essence, wooden hot tubs are similar to the fiberglass or concrete hot tubs, just with the beauty and natural aroma of wood. These wood versions, often referred to as ofuro-style hot tubs, are becoming more popular as consumers look for natural styles that blend into the backdrop of their outdoor areas. Most come in a variety of woods, such as oak, redwood, or cedar, all giving off a wonderful aroma when filled with hot, steaming water.
For those wanting just the look of wood or the more natural experience of soaking in wood, the modern wood hot tub is an excellent choice. Although they are usually smaller than some of the large fiberglass models, they are also less expensive and easy to maintain. Wood is a durable material, that when properly cared for can last for many years and still look beautiful. A quick scrub with hot water a few times a year will keep the wood clean, but never use soap on the wood. Cedar tubs can benefit from teak oil applied to the outside of the tub to keep the wood looking lustrous.
The modern wood hot tub is a combination of the rustic round wood tubs that were popular in the 1970s, or even the traditional ofuro with the modern plumbing and benefits of new technology. Especially for an outdoor patio with beautiful lush landscaping, these tubs offer an aesthetic appeal that their stark modern counterparts cannot offer.
Ready to Compare Hot Tubs Price Quotes?