Guide to Hot Tub Heaters
There are several different types of hot tub heaters that are used to heat the water for a hot tub. The type of heater will depend on the brand of hot tub, the location of the unit, and the owner's preference.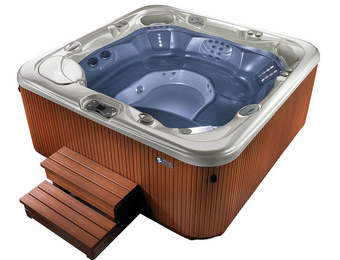 Gas heaters
Gas heating units are often used by owners who already have an established gas line in their home. Much like a larger water heater, these units use a gas flame to heat the water as the pump pushes cooled water from the tub. Gas units are sometimes cited as more efficient than other water heaters, since they use less electricity - but they do use some electricity.
Some units may be heated by on-demand gas water heaters, which are more energy efficient than regular gas heaters. The heater will only turn on when water is moving through the line.
Hayward H-Series heaters are a great example of an energy efficient gas heater. The Universal H-Series Low NOz heater leads the industry in thermal efficiency around 84%, while complying with all air quality emission standards in California and Texas. For the environmentally minded the low NOx emission is an excellent choice for a hot tub model. The selling price of this unit is $1,520, although depending on the retailer it can go as high as $4,800.
Electric heaters
Electric water heaters are built into some hot tubs. These are more popular in areas where natural gas is not used for home or water heating. Electric units can be more expensive in the long run and are more susceptible to damage from cold temperatures in outdoor hot tubs, so electric heating units are best used indoors where they can be protected from the elements.
Electric heaters can cost as low as $325 to a high of $500 depending on how many gallons of water you need to heat. The larger electric heaters will need a dedicated 240 outlet where the smaller ones can run off the standard household electric current.
Wood fire heaters
There are other choices for heating the water for hot tubs. Wood-fired water heating isn't as common as electric or gas, but does a great job at keeping water hot at a fraction of the cost associated with the other two methods. Most people who prefer a sustainable method of heating will find that wood heating works well for their lifestyle, though the installation may be too difficult for the casual user.
A homeowner who already has a wood-fired hot water system in place will be in a better financial position to install a hot tub meant for wood heat than a homeowner in an urban environment with no experience in wood heat or water heating. Wood fired water heating systems can be expensive and is best left for those who will be heating all of the water for their home long term with wood.
If you have ever purchased a cord of wood for your fireplace, you know this heating method will be extremely expensive depending on how often you use your tub.
Solar heaters
Solar water heat is also uncommon, but a viable option for someone interested in a green lifestyle. Solar water heating systems are not expensive and can be built at low cost. Solar hot tub heaters must be attached to a large heating unit, since a small one meant just for the hot tub will not generate enough heat to keep the water at a comfortable temperature. This is by far the option with the lowest cost, though you will need a significant amount of space to heat the water.
When the jets are turned on in a hot tub the water loses heat. Most small solar systems cannot keep up with the demand. If this is the way you really want to go and are prepared for the large panels required, you could be looking at a cost of at least $30,000.
If you're in the market for hot tub heaters, consider the heater option that works best for your home and budget. Keep in mind how much you are willing to spend, what kind of space you have, and what kind of heating you already have in your home. Once you've answered these questions, you're sure to find the right hot but and heating system for you.
Ready to Compare Hot Tubs Price Quotes?