An Introduction To Hot Tub Jets
Just as hot tub types and sizes vary, so do the jets that come in them. Different jet combinations can play a role in how relaxing the hot tub experience is. The purpose of these jets is to provide stimulation and promote relaxation to the lower back, neck, and other muscle groups. While adjusting the water flow can change the massage intensity, the type of jet being used plays its part in the experience as well.
Here are a few jet types and their unique properties.
The different types of jets for a hot tub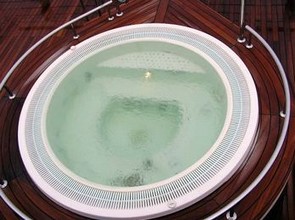 Mini Jets: Instead of one large jet, smaller jets are clustered together to form several streams where normally only one would exist. Think of it as a high powered showerhead. The user can position these jets to their liking, creating a custom experience. Typically, these jets are found in therapy chairs due to the intense water pressure of the multiple streams.


Moving Massage Jets: These oval shaped jets oscillate either vertically or horizontally in the water. The stream pulsates as it moves through the water. This pulsation provides massage action for a larger area, particularly the back. These jets are considered the most elaborate type and are very popular for those who use hot tubs for recreation.


Pillow Jets: Pillow jets are often used as part of a neck pain relief program. These jets target the neck and upper back in such a way that the user does not have to submerge their head into the water for relief. Typically, the ports that would house these jets are already built into the hot tub, as the position of the jet is critical to the purpose. In other words, installing a pillow jet midway down in the hot tub will not produce a pillow effect.


Shoulder Jets: Much like pillow jets, shoulder jets are area specific in function. These jets can be adjusted to fit the user's height however. Shoulder jets are located precisely in the shoulder area so they can provide optimal massaging benefits for that region. Typically, the stream of these jets is wider than a pillow jet stream as well.


Swirl Jets: This is the most common type of jet and is found in most models. In addition to providing users with an overall massage, they spin the water in a circular motion. This spinning has the potential to provide a less intense, but more customizable massage experience.


Whirlpool Jets: Because whirlpool jets are most commonly available in therapy hot tubs, consumers who want them in their home might need to special-order them. The jets are large and round, providing quite a bit more pressure than standard jets do .Because of this optimized pressure provided by whirlpool jets, they work best for treating injuries as they provide localized pressure to small areas at a time.
Mix and match
It is difficult to purchase just one style of jet for your hot tub since typically these tubs also provide a social outlet, or at least are used by more than one person. Newer models are allowing for more individualized pressure and oscillation control, making it possible to be more flexible with hot tub jet choices in one unit. This means you'll most likely be purchasing a hot tub with a jet package instead of just standard jets.
Costs
Prices can range from $5-$50 depending on the jet type you are ordering. Keep in mind that your final cost can depend on the number of jets you order as well. Distributors do tend to discount when multiple jets are ordered at once. Additionally, keeping mindful of the different functions of each jet might just save you a bit of time in comparison shopping.
For those using hydrotherapy as part of a physical health regime, speak with your therapist and discuss that your personal needs might be as well.
Ready to Compare Hot Tubs Price Quotes?