Hot Tubs Improve Relationships of Couples, Survey Finds
A recent survey has found a fascinating hot tub benefit: Owning a hot tub, according to research from the Association of Pool & Spa Professionals, actually helps couples build and maintain healthy relationships by encouraging the partners to spend social, relaxing time together.
The survey says
Besides their therapeutic benefits, such as soothing aching muscles, hot tubs also bring couples closer emotionally. More than three-fourths of respondents said the hot tub was one of the few things that took them away from day-to-day stress and allowed them to reconnect with their partners, according to media reports on the survey. But how exactly? The key lies in hot tubs' ability to provide a social, relaxing environment.
Social benefits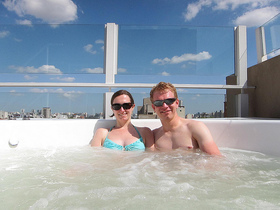 A hot tub gives a couple quality time together, regardless of the tub size. Think about the interaction between you and your partner. Time spent together watching television is rarely face-to-face interaction; other leisure time is likely interrupted by smartphones and other gadgets that divert your or your partner's attention.
With a hot tub in your home, you and your partner can spend time together without interruptions. The tub is an escape from digital gadgets. The focus is on the two of you making conversation and enjoying each others company.
You need only step into the tub on your own property to feel like you are on an intimate getaway. There is no need to plan a trip and spend money on an uncomfortable flight when you already have a dedicated space for rest and rejuvenation.
The hot tub for relaxation
Of the hot tub owners surveyed, 82 percent said they were highly satisfied with the amount of relaxation the tub gave them. Feeling relaxed can certainly help a relationship; you are probably more patient with your partner when you feel less stress. Chronic stress from work or home issues, such as bills, can lead to emotional pain and physical exhaustion. The problem doubles if your partner feels stressed, too.
Hot tubs are a valuable investment, then, because they provide a therapeutic space for body and mind. The express purpose of a hot tub is to sit and relax, providing a mental break that is hard to find elsewhere, and hot tub water and massaging jets have long been shown to have positive physical effects on tense or strained muscles. When a couple hops in the tub together, they're sharing those benefits and helping strengthen their bonds.
The hot tub benefit for couples is clear: It enhances a relationship by providing a tranquil, social atmosphere. The path to relaxation begins when you choose a hot tub that fits your home needs.
Ready to Compare Hot Tubs Price Quotes?