Will Apple Pay Revolutionize Retail?
With much fanfare, Apple Pay was officially released to the public last week. Apple Pay is a virtual wallet service that enables consumers to make purchases via their smartphone (the iPhone 6 or iPhone 6 Plus, to be precise). By loading their credit card information onto their phones, users can make purchases by simply tapping their phone to a scanner at the checkout counter. In addition to a fingerprint sensor (aka Touch ID) on the phone that acts as a user's password to approve transactions, Apple creates a unique code for each transaction; there is no saved credit card information.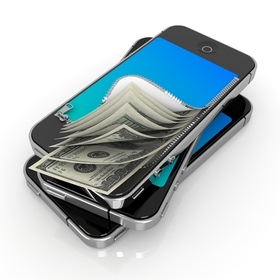 Let's take a look at the potential impact of Apple Pay by focusing on its two biggest selling points: convenience and security.
Convenience
Apple Pay works by leveraging near-field communication (NFC) technology to transfer small amounts of data (e.g., credit card info) between two devices held centimeters from each other (i.e., your phone and the point-of-sale terminal). It promises fast transactions without having to dig through your purse or wallet to find the credit card you want to use. Apple Pay supports credit and debit cards from Bank of America, Capital One, Chase, Citibank, Wells Fargo and American Express.
While the argument can be made that pulling out a credit card and swiping it at a POS terminal isn't a terribly burdensome task -- I'd be one to make such an argument -- proponents of Apple Pay counter that consumers will soon be inserting their cards and entering a PIN number at checkout as retailers transition to Chip-and-PIN technology. In fact, payments industry expert Brian Roemmele estimates that this new form of checkout will take six times longer than it does today.
Apple Pay may offer speed, but right now it's lacking in universal acceptance. In order to use the service in-store, you must have an iPhone 6 or iPhone 6 Plus (and installed the latest iOS 8.1 update). Earlier versions of the iPhone and smartphones from other brands aren't compatible with Apple Pay. In addition, only 220,000 merchants currently have Apple Pay-ready POS systems, a small percentage of the total retail and dining establishments in the U.S.
Furthermore, some big-name retailers have come out and said they're not going to accept Apple Pay -- at least for the time being. Wal-Mart, Target, Best Buy, Gap, CVS and others are part of the Merchant Customer Exchange (MCX), a company formed by these merchants to develop a customer-centric and secure mobile payment solution.
Security
With credit and debit card data breaches dominating the headlines in 2014 (just this week Staples announced it was probing a potential breach) consumers are becoming wary of swiping their cards at retail stores. Apple Pay offers a solution for both consumers and retailers alike. The service is based on a two-part security system:
The user's fingerprint, which is required for every transaction.
A chip embedded in the iPhone 6 and iPhone 6 Plus where a user's financial information is stored.
This secure element or chip is only accessed when a randomized 16-digit number (token) is generated during a transaction. The data stored on the chip never makes its way onto your phone's software; so even if someone hacked your operating system, there would be no way to extract your financial information. The secure element found in iPhones is also safe from hardware attacks. If a thief dismantled your phone, the secure element would sense tampering and immediately shut down.
Looking into the future
Apple Pay has been developed as a means to replace credit cards, eliminating the need for PINs or card swiping. It positions itself as a more convenient and secure way to pay for things. Time will tell if the smart money (pun intended) is on Apple.
Consider me a skeptic for a couple of reasons: One, Apple can talk all it wants about how secure Apple Pay really is, but I believe there's a significant segment of the population that's going to be reluctant to load their credit card information onto their phone, a device that can easily be lost or stolen.
And two, I just don't see consumers clamoring for an easier way to pay for things in-store. In fact, I think consumers will welcome -- or at least accept as a necessary evil, like they have with airport security lines -- a shift to Chip-and-PIN transactions, despite them taking slightly longer, if they know their personal card information is more secure.