Wireless POS systems
An exciting offshoot of the trend towards computerized point of sale (POS) systems is the development of wireless POS systems that let your staff conduct transactions wherever they are. The most popular use for wireless POS terminals is in restaurants, but they're also used in large lot retail stores and seasonal businesses that don't have permanent installations.
What is a wireless POS system?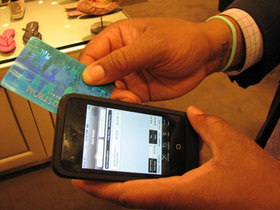 Photo courtesy of Forbes.com
Wireless POS devices are essentially handheld computers or PDAs. Often, they use the same touch-screen technology found in standard POS stations. Some vendors now offer "write-on" wireless POS devices: Instead of trying to compress a touch-screen interface onto a tiny PDA screen, these devices allow your servers to simply write the orders down. Handwriting recognition software parses the order then sends it on to the kitchen and bar as needed.
The foundational concept of a wireless POS is this: You can sell anywhere in your restaurant or retail store using mobile order input.
As a result, a wireless POS system can automatically boost sales by making payment processing even more convenient for the average customer - whether they are buying a sweater or ordering a hamburger for lunch.
For retail businesses, the wireless POS device can be extremely powerful when combined with a wireless credit card terminal. An employee armed with these tools can complete an entire transaction from anywhere they happen to be.
The perfect example can be seen in the mega retail chain Nordstrom that recently used mobile POS ordering to cut down on long lines and boost sales. Nordstrom confirmed that customers forced to wait in long lines for several minutes may "abandon ship" and give up on their order altogether, costing the retailer hundreds of dollars per person. Mobile ordering capitalizes on a customer's likelihood to impulse buy, especially without long lines to deter them.
Wireless POS terminals are understandably more expensive than traditional touch-screen terminals. However, in restaurants, they can make up for the cost by allowing your servers to spend more time upselling more desserts and drinks. When evaluating handheld wireless POS terminals, make sure you ask about the "drop test" - units are rated for toughness according to how much of a fall they can survive.
What are the benefits of a wireless POS system?
No matter how the information is entered, each wireless POS terminal transmits orders back to a base station as they're entered. This provides a distinct advantage for restaurants: they increase the amount of time your servers spend on the floor taking orders and interacting with customers because they never have to go back to a terminal. In a retail store, the same benefits can be seen; sales representatives can consult with and cash out customers on the sales floor without ever visiting a register.
A wireless POS system will offer other critical benefits to improve sales and productivity, like:
Provide real-time information on inventory and availability of specials - without repeated trips back to a POS terminal.
Reduce costly hardware requirements for individual POS registers.
Improve customer service with better order accuracy, both in restaurants and retail stores.
Can look up customer information on the sales floor or tableside, without visiting a register.
Offer digital receipt transmission via text or email for customer convenience.
As a final note, it's important to point out that wireless POS systems should not be associated with breaches in security. In fact, quite the opposite is true. One prime advantage in integrating a wireless POS is the potential for improved security necessary for implementation.
Many retailers and restaurants will be forced to upgrade their payment processing technologies in order to meet new security guidelines required by a wireless POS. To run mobile payments, a secure wireless connection that includes data encoding is mandatory, making customer payment information safer than ever before.
Ready to Compare POS Systems Price Quotes?