Top Restaurant Software Features to Consider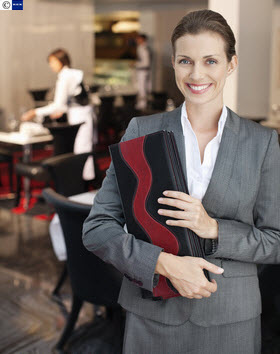 Running a successful restaurant used to be about the basics: good location, good food, good service. These days, there's another important consideration: the restaurant software you use to run your POS system.
Even though physical components like monitors and computers are the most visible, the software is the heart of the POS system. Doing a careful evaluation of restaurant software is key to getting a system that will satisfy both employees and customers.
Speaking of customers, would you be surprised to learn that 60% of customers are willing to pay for a better experience? According to Harris Interactive research, customers will pay extra for exceptional service, regardless of the state of the economy.
If you're worried about the cost of investment in high-quality POS software with all the bells and whistles, it could soon pay for itself if it keeps customers coming in your door. Customers that experience a long wait or an incorrect order may give up on your restaurant for good. Fortunately, all of these problems and more can be solved in selecting the right POS system tailored to your establishment.
What to look for in restaurant POS software: The basics
First, it's important to know what exactly you need the software to do. Any reasonable restaurant software can handle checks by diner or table, track orders per server, move diners from the bar to a table, manage waiting lists and reservations, and more.
To cover these bases, ask yourself the following questions to ensure that potential restaurant POS software meets your needs at a bare minimum:
Is the software industry-specific and made for my type of restaurant?
Is the software user-friendly and designed to save time?
Does the software require me to purchase additional equipment?
Does the software include online or telephone IT support?
How was the software tested, and what is the protocol for troubleshooting problems?
First and foremost, any POS software you consider must be customized to your industry. Within the restaurant niche, software subcategories may include cafe, delivery, fine dining, fast food/fast casual, quick service, and more.
From there, you can determine if the functionality of the software can help to improve efficiency in your eatery. If a software program requires you to purchase extra equipment that you don't already have, the investment cost could outweigh the benefit.
Lastly, delve deeply into what type of support is available with a restaurant POS software system. If a POS freezes in a rush, you'll be scrambling to write manual tickets to fulfill customer orders. A software program that has been thoroughly tested and provides 24/7 online IT support can get you through a rough patch quickly if the system fails for any reason.
Once you're satisfied that a particular piece of restaurant software meets your basic requirements, try it yourself to see how easy it is to use. While there will always be a learning curve for your staff when you adopt a new POS system, choosing restaurant software that's easy to use can reduce the learning curve to manageable levels.
You may learn more about ease of use by having one or two of your servers involved in the evaluation. They'll be able to try out the kinds of oddball situations and changes that can cause problems with some software to test:
Security - Each employee should have their own user account. You should be able to limit access to sensitive reports and functions (such as comping meals) to managers, if desired.


Flexibility - Servers should be able to manipulate checks to match the whims of your patrons: easily splitting checks and tracking special orders, for example.


Reporting - One the main advantages of restaurant software for owners and managers is the detailed reporting available. Make sure the software you choose lets you get detailed information either per check, per server, or overall, ranging from daily to annually.


Multiple location support - If applicable, make sure the system is capable of tracking and reporting on multiple locations, including local differences in staffing and pricing.
Don't neglect hardware
Of course, you'll need to invest in hardware as well: computers to run the restaurant software on, touch-screen displays for servers to enter order, and printers to produce order slips for the kitchen. The software you choose will dictate any special hardware requirements - the biggest hardware decision you'll have to make is how many stations you need.
Your hardware selection should come after your software selection. The reason being is because POS software will have specific hardware requirements; one software program may be compatible with certain scanners, cash registers, printers, and credit card swipers, while another will not.
As an example, a number of new restaurant POS software programs have been introduced with tablet compatibility. This versatile software will function with an iPad or tablet device to allow for tableside ordering or processing customer transactions on-the-go to cut down on long lines. A restaurant POS with mobile capabilities will require the necessary hardware, i.e. tablets, to take advantage of all features.
Before you buy, use the criteria above to choose the best restaurant POS software to meet your needs - and purchase complementary hardware last of all.
Ready to Compare POS Systems Price Quotes?