Digitizing the In-Store Experience & Data Security Dominate the Conversation at NRF Big Show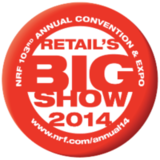 Having just returned from spending three days in New York City at the National Retail Federation's (NRF) Big Show, I thought it would be a good idea to share with you some thoughts I took away from the event:
Experiment with Technology
A side effect of the growing popularity of e-commerce is that less people are shopping in-store. Brick-and-mortar retailers are concerned about the decrease in traffic to their stores, and they're taking steps to fix the problem. There are likely several reasons for this, including the convenience of shopping online, more and more brands offering free shipping, and having more inventory to choose from online.
Retailers such as Barneys New York, Crocs and Avenue discussed ways that they're leveraging technology to make the traditional store shopping experience relevant for today's digitally connected consumers, such as the following:
Equipping store associates with mobile devices to aid in the shopping process. For instance, mobile point of sale to enable "linebusting."


Providing endless aisle solutions -- i.e., giving in-store consumers the opportunity to order products that are out of stock or missing in their size from a tablet or kiosk and have them shipped to their home.


Providing Wi-Fi in-store. By doing this, retailers are investing time and energy to bring the best of the online shopping experience in-store.
A keynote session from Hointer's Nadia Shouraboura further addressed this trend. The apparel startup's retail store in Seattle is modeled after the shopping experience offered by another of the city's businesses, Amazon.com. Shouraboura spent nearly nine years at Amazon as chief technology officer before deciding that she wanted to open retail stores that operated as efficiently and conveniently as an e-commerce site. All of the merchandise featured in Hointer's store is marked with an e-tag that visitors can scan with their phone (via Hointer's omni-cart app) to get product information, personalized recommendations, customer reviews, media clips and even send the item to a pre-selected fitting room to be tried on.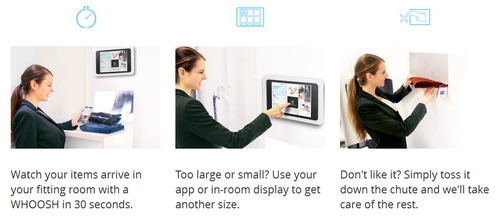 Photo courtesy of Hointer.com
The fitting rooms at Hointer's store are outfitted with wall-mounted tablets that enable the shopper to ask for a different size, color or new item altogether without having to leave the fitting room. Shoppers can also use the tablet to look at relevant media and product information. If the shopper decides they don't like an item, they simply toss it down a chute for discarded merchandise. And if they want the opinion of the store associate, they simply press a "mayday" button and she responds immediately.
"Experiment with new technology," Shouraboura urged the audience of retailers. "Some will work, some won't. Test it out in one store first, analyze the results, then make the decision to roll out the technology to more stores or do away with it."
Data Security Concerns Grow
In light of the recent data breaches experienced by Target, Neiman Marcus and, as of press time, still unnamed retailers, data security was not surprisingly a hot topic at NRF. Numerous POS vendors exhibited their solutions at the event, touting themselves as the securest option available, and a session sponsored by Dunbar highlighted the latest technology solutions for retailers' security needs.
What has been made clear in the aftermath of this latest rash of security breaches is that consumers are losing trust in retailers' ability to keep their personal data safe and out of the hands of criminals. The risk is too great for retailers not to be investing time and resources into a secure POS system. Consider what Target and Neiman Marcus are facing right now.
As I took the brief train ride home from the NRF Big Show, a couple thoughts were going through my head: one, the retail industry is evolving faster than ever before, none more so than the traditional brick-and-mortar storefront; and two, data security should be at the top of all retailers' priority lists in 2014.