The Growing Link Between Retail and Technology
The influence of technology in the retail industry has grown exponentially over the years, and never has it been as strong as it is today. In fact, the lines are blurring between retail brands and technology firms. Retailers are spending huge sums of money to develop their own technology to better serve today's connected consumers.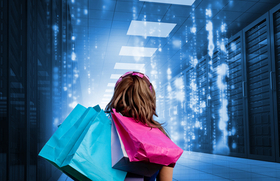 eBay, for example, now considers itself to be a technology company, not a retailer, explained the company's President and CEO John Donahoe in his keynote address at the Internet Retailer Conference & Exhibition in June. And having just spent a few days at the eTail conference, technology was again the dominant theme of the event.
Technology solutions are helping retailers to better understand their customers, which enables them to better serve their needs. Here are just a few examples of retail technology solutions:
Virtual fitting rooms that help online shoppers find the right sizes, and decrease the number of returns.
Beacons that send notifications, alerts and coupons to in-store shoppers via their smartphones.
Mobile wallets that allow consumers to pay for purchases by simply tapping their phone to a payment terminal.
Retailers are investing in technology that makes it easier for consumers to do business with them.
Technology Enhances Retail Operations
While the foundations of a successful retail business will always be the same -- quality products, fair pricing, and superior customer service -- how you go about achieving those goals is changing. Take pricing, for example. With products available for purchase in multiple channels at any time, maintaining consistent pricing across all channels while remaining competitive with the marketplace has proven to be a challenge for a lot of retailers. As a result, dynamic pricing has emerged.
Dynamic pricing is a technology solution that implements pricing rules that automate repricing based on a number of factors, including: the relationship between your price and competitors' prices; transactional and third-party data; and consumer signals. Consider that Amazon.com changes the prices of 15% to 20% of its inventory daily.
In addition to pricing, customer service has been enhanced with the help of technology. For example, an increasing number of retailers are equipping store associates with tablets so they can improve the in-store shopping experience for consumers. Whether it's looking up a customer's past purchase history to suggest items, having access to inventory in real- time so store associates know what products/sizes are in stock, or being able to check out customers so they don't have to wait in line, technology is improving the in-store shopping experience.
Innovation Labs Sprout Up
Brands have begun to invest millions to start their own tech labs. Primarily located in Silicon Valley, these tech labs have been tasked with developing technologies and innovations that will allow their brand to differentiate itself in the hypercompetitive retail industry -- and at the same time, keep pace with the rapid adoption of technology by their customers.
Tech labs are more likely to be staffed by data scientists from MIT than merchandisers from FIT. It's a sea change for traditional retail brands. Companies that have opened technology labs include Wal-Mart, Target, Kohl's, QVC, Staples, Home Depot, Nordstrom, and American Eagle, among others. All of these tech labs likely share one common goal, even if they won't admit it: to keep pace with what Amazon is doing. Technology is at the core of that solution.
This first step to making your retail business more technology focused is to foster a culture of innovation. For example, reward employees for innovative ideas; partner with tech-savvy companies that can provide new features and/or services that improve customers' shopping experiences; collect feedback on the types of technologies your customers are using; monitor how your competitors are integrating technology into their businesses.
Your customers are at the forefront of the technology movement. You need to be there with them or risk being left behind.