Aloha POS Systems Foster Superior Customer Service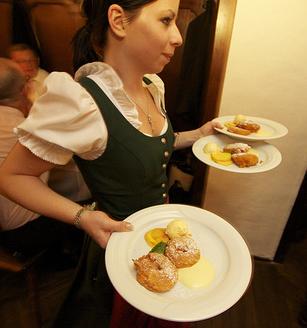 Photo by Adrian Nier.
The Aloha POS system is a favorite among restaurants and businesses in the hospitality industry. Aloha has a great reputation as a point-of-sale system that is extremely easy to use, and their systems help boost efficiency for businesses, staff, and customers. This option makes it easy for servers to enter orders and collect payments from customers. It makes operations more streamlined, which will ultimately make your business more profitable.
A favorite in the restaurant industry
Aloha POS systems are designed specifically for restaurants, which is why the brand is in use among major franchises as well as mom-and-pop establishments. Additionally, Aloha even offers POS systems for different types of restaurants so you can choose the product that best aligns with how you serve your customers. If you run a deli, for example, the quick service POS might be the best option. You can even purchase a POS system tailored for takeout services.
Other types of restaurants are delving into new models. Major restaurant chain Chili's, for instance, is using Ziosk tablets that are linked with the chain's Aloha POS system so patrons can place orders directly from their table. This option is meant to let the customer set the pace in the restaurant. The goal of the technology is not to replace servers, but to provide an add-on to enhance the service that staff can provide to the customers.
An Aloha POS system makes functions like check-splitting and credit-card processing a quick and easy process. This will enhance your establishment's reputation for superior customer service and help to foster customer loyalty.
What's the best POS system for your restaurant?
Whether you choose an Aloha POS system or another provider entirely, it is important to thoroughly explore your options and choose the product most likely to give you what you need. This varies from one business to the next, so what works for one person might not be appropriate for another. If you run a restaurant, for example, consider how your wait staff takes orders. Is it easier for them to take orders on handheld devices so the information goes directly from the table to the kitchen? Or will several POS terminals suffice?
If you already have a POS system for checking customers out, you might want to purchase a system that will integrate well with your existing solution. Two major questions to ask are: How easy is the new system to learn, and will the company allow me to upgrade the software at an affordable cost? Finally, you might want to think about what a wireless system or a web-based software platform might offer. Make a list of the features you are looking for before you start shopping for a POS system.
Before you settle down on a vendor, make sure to compare prices on POS systems between multiple companies. BuyerZone is a great tool for price comparison shopping that may save your business hundreds of dollars by letting you know when a company may be overcharging you.
Ready to Compare POS Systems Price Quotes?